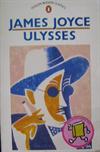 Ulysses
Registered by

RoseOfDarkness

of
Baruth/Mark
,
Brandenburg
Germany on 6/1/2011
3 journalers for this copy...
Journal Entry
1
by

RoseOfDarkness

from
Baruth/Mark
,
Brandenburg
Germany on Wednesday, June 1, 2011

"1001 Bücher, die Sie lesen sollten, bevor das Leben vorbei ist"
Englische Ausgabe
"Ulysses" is just the events of one day, June 16, 1904, in Dublin. The three "main" characters are Leopold Bloom, an Irish Jew, (the only reason I mention his ethnicity is because it's important to the story); Stephen Dedalus, a school teacher, who can be seen as a continuation of the protagonist from "A Portrait of the Artist as a Young Man", and as Joyce's own persona in the story; and Molly Bloom, Leopold's adulterous wife, whose non-punctuated "monolog" in the final chapter is probably the most quoted section of the book. Nothing fantastic action-wise happens in the story, beginning in the morning with Stephen's roommate--they live in an old military post built during the Napoleonic Wars--Buck Mulligan shaving, and ending very late in the evening with Molly Bloom's recollections of the day and her feelings for her husband, among many others; but it's the methods of production and presentation that you admire. Joyce uses "stream-of-consciousness" or some would say more accurately, "internal monolog". Characters thoughts are presented in prose to give the effect of being inside the characters mind, kind of like having a front row seat. One of the many difficulties is that the role of narrator often switches, and sometimes switches to characters that aren't even identified. This often confuses first-time readers and scares off scores of others.
"Ulysses" isn't an easy read. Reading it takes work. But it's not impossible. Some may feel that no book is worth the effort, but I assure you "Ulysses" is, and it won't take that much out of you to understand it
---
Journal Entry
2
by

RoseOfDarkness

at
-- Per Post geschickt/ Persönlich weitergegeben --, Brandenburg Germany on Monday, July 4, 2011
Released 11 yrs ago (7/4/2011 UTC) at -- Per Post geschickt/ Persönlich weitergegeben --, Brandenburg Germany
CONTROLLED RELEASE NOTES:
Lieber Finder - auf ein Wort:
Wenn du dich bei Bookcrossing anmelden willst, kann es passieren, dass du sehr schnell Freundschaftsanfragen und/oder "Begrüßungsmails" von anderen Bookcrossern bekommst. Diese Funktionen laufen rein über die Internetseite als "personal message" - deine e-mail-Adresse kann niemand sehen!
Du kannst diese Funktionen gleich nach deiner Anmeldung abschalten, wenn du "Profil bearbeiten" anklickst und dort deine Einstellungen nach eigenem Beliebem vornimmst.
Bei Fragen zu Bookcrossing kannst du dich gerne (durch personal message) an mich wenden.
Es ist aber auch ganz einfach nur einen anonymen Eintrag zu machen.
Einfach den Button
"Nein danke, ich möchte lieber völlig anonym bleiben"
anklicken.
Der versteckt sich unter den 3 Feldern Twitter/Goodreads/Facebook.
Die deutschsprachigen Bookcrosser tauschen sich übrigens in einem öffentlichen Forum aus, in dem jeder Interessierte auch unregistriert mitlesen kann:
Forum
Forum Austria
Außerdem empfehle ich Dir bei Fragen die Supportseite
Supportseite
Welcome to BookCrossing. Thanks for taking the time to visit the site. Please make a journal entry to let me know that you have found this book, you may do this anonymously or you may join. There is no charge to join this site, if you are like myself from time to time you may donate to help support Bookcrossing; but it is not mandatory. If you are new to BookCrossing and choose to join, please indicate that you were referred by RoseOfDarkness. Membership is free and your name and e-mail address is not shared with anyone else and it will never be sold. BookCrossing is a a world-wide group of people who love books and wish to share them with others.
Please enjoy this book, if it is not your genre pass it along to someone else or wild release it.
In this way we promote literacy and at the same time we can watch our book continue on
it's journey.
"Kindness is a language which the deaf can hear and the blind can read."
Mark Twain
---
Als Raback erhalten. Aber Ulysses und das auch noch im Orginal auf englisch. dAs ist ein bischen zu schwer für mich. Reist also demnächst weiter.
---
Thanks for sending the book. I'll try to read and enjoy it.
---