Out of Egypt: a Memoir
1 journaler for this copy...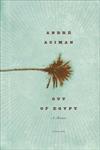 from Goodreads.com:
"This richly colored memoir chronicles the exploits of a flamboyant Jewish family, from its bold arrival in cosmopolitan Alexandria to its defeated exodus three generations later. In elegant and witty prose, André Aciman introduces us to the marvelous eccentrics who shaped his life - Uncle Vili, the strutting daredevil, soldier, salesman, and spy; the two grandmothers, the Princess and the Saint, who gossip in six languages; Aunt Flora, the German refugee who warns that Jews lose everything at least twice in their lives. And through it all, we come to know a boy who, even as he longs for a wider world, does not want to be led, forever, out of Egypt."
---

(reserved for my comments)
---

BOOK RAY
Please PM if you are interested, and include
a) Your location
b) Where you are willing to post the book after you read it
(International, or only within N. America / Asia / Australia / Europe, etc.)
BookRay participants
(tentative order of participants):
-
penelopewanders
(in Switzerland, posts within Europe)
-
Totje2
(in The Netherlands, posts within Europe, prefers towards end of list)
-
Icila
(in France, posts anywhere, prefers towards end of list)
-
PJLBewdy
(in Australia, posts anywhere)
-
ealasaidmae
(in USA, posts international)
- your name here if would like to join this ray
~ ~ ~ ~ >
Please make a journal entry when you receive the book.
~ ~ ~ ~ >
Please read and pass on the book within
two months
of receipt. If you can't do this for any reason, please PM me to let me know.
~ ~ ~ ~ >
When you are done reading, contact the next reader via PM for their address. Also make another journal entry (or edit your first one) to share your comments about the book.
(
forum post
)
---