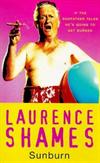 Sunburn
Registered by

bloedengel

of
Vosselaar
,
Antwerpen / Anvers
Belgium on 3/28/2011
3 journalers for this copy...

Journal Entry
1
by

bloedengel

from
Vosselaar
,
Antwerpen / Anvers
Belgium on Monday, March 28, 2011
To the finder of this book:
Hello and congratulations! You have not only found yourself a good book, but a whole community of booklovers dedicated to sharing books with each other and the world. I hope you'll stick around a bit and get to know BookCrossing --maybe even make a journal entry on this book. You may choose to remain anonymous or to join (its free!)
Feel free to read and keep this book, or to pass it on to a friend or even set it out "in the wild" for someone else to find like you did. If you do choose to join and journal, then you can watch the book as it travels- You'll be alerted by email each time someone makes another journal entry. It's all confidential (you're known only by your screen name and no one is ever given your e-mail address), free, and spam-free. Happy reading!
---

Journal Entry
2
by

bloedengel

at
Turnhout, Antwerpen / Anvers Belgium on Wednesday, March 30, 2011
Released 11 yrs ago (3/30/2011 UTC) at Turnhout, Antwerpen / Anvers Belgium
CONTROLLED RELEASE NOTES:
1. I create a list of all participants
2. I then offer the person a book via PM for example The Book Thief, they can either take this book or twist, which means I'll send them something entirely random off of my shelf.
3. I'll post this book to them and on receipt of this they will offer the next person via PM the book they have just received, or twist.

IF they pick the book the person received the person has to read it and then post it on.

IF it is a twist then they post out a random book from their availables.

This continues until it gets back to me, which means all the members may read the same book or a random book on each pass.

So I can keep track of where things are please post here with a simple message of Stick or Twist when you decide what you are going to do.

DON'T POST HERE WITH A BOOK TITLE AS IT WILL BE NICE TO RECEIVE A SUPRISE WHEN YOUR MESSAGE COMES.

Any Questions, if I haven't made this clear enough PM me or post below and I'll try to respond

PARTICIPANT ORDER (if I've missed you PM me) :

bloedengel
kiwiinengland
sheepette
yorkshirelass
seayork2002
madmadge
frutz
raluk68
Victoriawagtail
releanna
marsala
kate-and-rob
saskiaosmile
pennydainty

We're travelling, if a person goes for twist, thank you for including the 'rest' of the then current list in your release-entry (of the new book)
---

Journal Entry
3
by

kiwiinengland

at
Dublin, Co. Dublin Ireland on Monday, April 4, 2011
Received today in Dublin, will pm sheepette now and see if they wish to stick or twist. Thanks for sending the book, it looks like a fun light read - perfect for summer.
---

Journal Entry
4
by

kiwiinengland

at
Dublin, Co. Dublin Ireland on Tuesday, April 26, 2011
A fun romp through a mafia situation in Florida. The characters were stereotypical but the story didn't call for much more. I enjoyed the Godfather and the girlfriend the most.

The author having them talking in dialect was annoying at times.
---

Journal Entry
5
by

kiwiinengland

at
Manchester, Greater Manchester United Kingdom on Wednesday, April 27, 2011
Released 11 yrs ago (4/30/2011 UTC) at Manchester, Greater Manchester United Kingdom
CONTROLLED RELEASE NOTES:
This is going to Sheepette, as part of a stick/twist game.
---

received today as part of the stick or twist game.
Will start reading it asap.

Off to contact yorshire lass and try to find the original forum post.
Thank you Kiwiinengland for sending this and blondgel for the idea and starting it.

---

If anyone is interested, this is the one I sent Yorkshire-lass
http://www.bookcrossing.com/journal/6943349/
---

I finished this book about a week ago, but have only just got round to writing a review.

I recieved this as part of the stick or twist game. This would not have been something I would usually picked to read but thought it maybe knowing what i would get would be better than a twist and ending up with something else i would not have read.

I surprised myself by really enjoying it. I love the thought of a mafia boss gardening in his spare time like a "normal person" or maybe he's a gadener who happens to be a mafia boss.

Like the previousus reader i too liked the girlfriend. I also liked Bert.

As this book was not mine to start with and as there is quite a few swear words in it, I would not be happy to wild release it, so I might see if i can start a bookring or a ROAK.

Thank you again for giving me chance to partake in this game and if another one was ever to be started I would love to join.


---