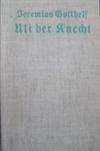 Uli der Knecht
Registered by

RoseOfDarkness

of
Baruth/Mark
,
Brandenburg
Germany on 3/21/2011

This Book is Currently in the Wild!
4 journalers for this copy...
Journal Entry
1
by

RoseOfDarkness

from
Baruth/Mark
,
Brandenburg
Germany on Monday, March 21, 2011
Altdeutsche Schrift.
Rare für die Challenge registriert. Bitte an andere Teilnehmer weitergeben.
Die hindernisreiche Liebesgeschichte vom tüchtigen, aber widerborstigen Knecht Uli und vom braven Bernermeitschi Vreneli ist der klassische Bauernspiegel der Schweiz und ein Entwicklungsroman von hoher Qualität.Bis die beiden Dickköpfe zueinanderfinden, muss Uli viel lernen. Die unterschiedlichsten Menschen greifen in sein Leben ein.
Da ist vor allem der Bodenbauer, ein aufrechter Landmann, mit seiner klugen, großherzigen Frau; aber da sind auch der ewig unzufriedene Bauer Joggeli, dessen gute Bäuerin nicht gegen ihn aufkommt, und ihre nichtsnutzigen Kinder.
Wer das Landleben nicht durch die rosarote Verklärungsbrille, sondern durch die klaren Augengläser des Pfarrers von Lützelflüh sehen will, wird an dieser so hintersinnigen wie frommen Darstellung aus dem Jahr 1840 seine helle Freude haben."
---
Journal Entry
2
by

RoseOfDarkness

at
-- Per Post geschickt/ Persönlich weitergegeben --, Brandenburg Germany on Wednesday, April 13, 2011
Released 8 yrs ago (4/13/2011 UTC) at -- Per Post geschickt/ Persönlich weitergegeben --, Brandenburg Germany
CONTROLLED RELEASE NOTES:
Lieber Finder - auf ein Wort:
Wenn du dich bei Bookcrossing anmelden willst, kann es passieren, dass du sehr schnell Freundschaftsanfragen und/oder "Begrüßungsmails" von anderen Bookcrossern bekommst. Diese Funktionen laufen rein über die Internetseite als "personal message" - deine e-mail-Adresse kann niemand sehen!
Du kannst diese Funktionen gleich nach deiner Anmeldung abschalten, wenn du "Profil bearbeiten" anklickst und dort deine Einstellungen nach eigenem Beliebem vornimmst.
Bei Fragen zu Bookcrossing kannst du dich gerne (durch personal message) an mich wenden.
Es ist aber auch ganz einfach nur einen anonymen Eintrag zu machen.
Einfach den Button
"Nein danke, ich möchte lieber völlig anonym bleiben"
anklicken.
Der versteckt sich unter den 3 Feldern Twitter/Goodreads/Facebook.
Die deutschsprachigen Bookcrosser tauschen sich übrigens in einem öffentlichen Forum aus, in dem jeder Interessierte auch unregistriert mitlesen kann:
Forum
Forum Austria
Außerdem empfehle ich Dir bei Fragen die Supportseite
Supportseite
Welcome to BookCrossing. Thanks for taking the time to visit the site. Please make a journal entry to let me know that you have found this book, you may do this anonymously or you may join. There is no charge to join this site, if you are like myself from time to time you may donate to help support Bookcrossing; but it is not mandatory. If you are new to BookCrossing and choose to join, please indicate that you were referred by RoseOfDarkness. Membership is free and your name and e-mail address is not shared with anyone else and it will never be sold. BookCrossing is a a world-wide group of people who love books and wish to share them with others.
Please enjoy this book, if it is not your genre pass it along to someone else or wild release it.
In this way we promote literacy and at the same time we can watch our book continue on
it's journey.
"Kindness is a language which the deaf can hear and the blind can read."
Mark Twain
---
Das Buch kam heute mit einer ganzen Kiste voll 1000-Bücher-Büchern :)
Ich freue mich riesig. Vielen Dank an RoseOfDarkness!
---
Heute habe ich das Buch zu Ende gelesen und ich muss sagen, es hat mir recht gut gefallen.
Am Anfang war es etwas schwierig mich an die altdeutsche Schrift zu gewöhnen, aber die las sich immer besser und jetzt zum Schluss hatte ich gar keine Probleme mehr damit.

Das Buch an sich war im Vergleich zu modernen Büchern nicht sehr Handlungsgeladen, aber ich hatte trotzdem immer den Drang weiterzulesen und es wurde an keiner Stelle langweilig.Mir gefallen auch sehr gut die moralischen Gedanken, die im Laufe der Geschichte rüberkommen, was Geldgier, Fleiß, Liebe, gegenseitige Rücksichtnahme und Verständnis im Umgang mit anderen angeht.

---
Das Buch reist weiter zu Gewinnerin der "Es ist Sommer"-Verlosung, die sich unter anderem Bücher für die 1000-Bücher Challenge gewünscht hat.

Viel Spaß damit.
---
Journal Entry
6
by
laborqueen
at
Bielefeld, Nordrhein-Westfalen Germany on Wednesday, August 03, 2011
ein nettes Buch, aber leider in FRaktur geschrieben, das macht mir nicht wirklich Spass zu lesen. Aber es wird innerhalb der 1000 Bücher-Challenge weiter reisen...
---
Journal Entry
7
by
laborqueen
at
Bielefeld, Nordrhein-Westfalen Germany on Saturday, January 21, 2012
Released 7 yrs ago (1/21/2012 UTC) at Bielefeld, Nordrhein-Westfalen Germany
CONTROLLED RELEASE NOTES:
reist in meiner 1000-Bücher-Box mit...
---

noch nicht gelesen, deshalb aus der Box gefischt
---
Journal Entry
9
by

Ghanescha

at
Kurpark Bad Griesbach in Bad Griesbach, Bayern Germany on Monday, February 13, 2012
Released 7 yrs ago (2/13/2012 UTC) at Kurpark Bad Griesbach in Bad Griesbach, Bayern Germany
WILD RELEASE NOTES:

Foto folgt
Hello! Bookcrossing is a online community of book lovers dedicated to sharing books with each other and the world at large. We are curious to see how far and wide it will travel and how its readers like it. Kindly make a journal entry to let us know it's found a new reader.
Feel free to read and keep this book, pass it on to a friend, leave it back on the shelf or somewhere else for the next reader. If you journal this book as a member, then you will hear from the book as it travels around. Happy reading!
Liebe Finderin, lieber Finder,
Gratulation, dass Du dieses Buch gefunden hast! Ich hoffe, es gefällt Dir. Du hast nicht nur ein Buch, sondern eine ganze Gemeinschaft von Leserinnen und Lesern gefunden, die Bücher lieben. Schau Dir die Seite mal an! Ich würde mich sehr freuen, wenn Du Dir die Zeit nimmst, einen Journal-Eintrag zu machen und mich so wissen zu lassen, wo das Buch gerade ist und was Du damit vor hast. Vielleicht willst Du Bookcrossing ja beitreten? Das ist anonym, kostenlos und macht Spaß!
---