Guppies For Tea - BOOKRING!
6 journalers for this copy...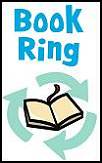 BOOKRING - see end of this journal entry for more info...
This is a book I highly enjoyed.... Marika Cobbold is one of my favourite authors...
Marika Cobbold, a swedish/english author, is exellent in her first novel!
The Amazon-UK synopsis:
An account of a young woman's battle to save her grandmother from a retirement home, her battle against her boyfriend's defection, and with her mother's obsession with germs.
Please PM me if you want to join the bookring, it is now full and almost ready to go. If you'd like to join in you need to be able to ship internationally!:
Bookring list:
1. mymmel (Sweden - ships internationally)
2. pikapolonica (Sweden - ships Europe)
3. Deerskin (UK - ships internationally)
4. reader1212 (Washington USA - US only)
5. christine-bpc (Texas USA - ships US only)
6. prplpec (Georgia USA - ships US/CAN only)- Currently on its way here
7. tamugrad02 (Virginia USA - ships US only)
8. Morgail (Kentucky USA - ships internationally)
9. mysteryfan03 (Missouri USA - ships internationally surface only)
10. alrescate (Missouri USA - ships internationally)
11.Kernow8 (UK)
12. Silverstone (back to me in Sweden)
---
The book is currently on its way to mymmel aaaand.... the bookring has now officially started!
---

Found the book in my mailbox this morning! I'll start reading it a.s.a.p. Thanks Silverstone!
---
I LOVE THIS BOOK!!

It's witty, it's funny, fantastic! The story is sad, moving, hilarious and very well written. If I'm not mistaken the author is swedish, but now living in the UK. But she writes her novels in english, right? I kind of enjoyed the little swedish details in the book, like the tale of the Huldra and the "Dansa min docka"-song. I truly envy the rest of you who haven't read it yet. I hope you all enjoy it as much as I did!

I'm passing it on to pikapolonica this afternoon, hopefully you'll get it tomorrow!
---


The book arrived to Stockholm. I'll start reading it as soon as I am done with another bookray book.
Update (7th Nov): What a beautiful sad story! I enjoyed this book so much and admire the writer that she chose a topic of human aging and dying that we usually don't feel very comfortable with in our times and told the story in such a lovely and warm way. I would like to find some other book by the same author, which is another new BCing discovery for me.
14th Nov: the book goes to Deerskin this afternoon.
---
Just recieved today - thanks. I've already started reading it so I probably won't be long!
---
Ifinished this yesterday. It's not my usual type of book at all and, after reading the first few chapters, I thought I wasn't going to like it. However, by halfway through I was beginning to get into it and enjoy it more. A good read, I loved the way the taboo and frightening issue of growing old was tackled, starkly and without sentiment.

Thanks for the chance to read this - I'll be sending it on as soon as I can.
---
Rec'd the book in the mail on 12/4-I have to finishe the book I am reading and then one other book ring book and then I will read it.
---
Well, since I had misplaced my other book, which was not part of a ring, I started this one earlier than planned and really enjoyed it alot.
Off to the next person tomorrow.
---
I received this book in December and read it as soon as I finished the book I was currently reading. It was a somewhat fitting book to read as my Grandmother, who had Alzheimers, passed away the day after Christmas. It was a funny, touching and warm story that I really enjoyed. My only complaint about the book was some story lines (Amelia & Henry) that the book left dangling in the end. Other than that, it was a good, warm read.

Sending off tomorrow to prplpec!
---