toast
5 journalers for this copy...
Dear Reader

Welcome to BookCrossing and thanks for being a part of World Book Night 2011, the largest book giveaway in history. 1,000,000 specially printed copies of 25 different books changed hands on March 5th 2011 and began their journey from reader to reader. This book is one of them. World Book Night has joined with BookCrossing to help track these books as they travel. You can be a part of that journey by making a comment in the book's journal here on BookCrossing. Your journal entry can say how you got the book, what you thought of it, your plans for it or whatever else you might like to add.

On BookCrossing you may choose to remain anonymous or join (it's free). If you join, you'll be alerted by e-mail each time someone makes another journal entry for this specific copy of this book (other copies of the book are travelling with their own ID number. Every copy of every book has a unique ID). It's all confidential (you're known only by your screen name and no one is ever given your e-mail address) and spam-free.

Thanks in advance for being part of World Book Night and BookCrossing. And happy reading and sharing.
---
Journal Entry
2
by
worldbooknight
at
London, Greater London United Kingdom on Friday, February 25, 2011
Released 8 yrs ago (2/25/2011 UTC) at London, Greater London United Kingdom
CONTROLLED RELEASE NOTES:
This book is being released via BookCrossing on 5 March 2011 as part of the inaugural World Book Night. With the full support of the Publishers Association, the Booksellers Association, the Independent Publishers Guild, the Reading Agency with libraries, World Book Day and the BBC, one million books will be given away by an army of passionate readers to members of the public across the UK and Ireland.

Read and release!
---

Journal Entry
3
by

Diane-Fraser

at
Newcastle upon Tyne, Tyne and Wear United Kingdom on Tuesday, December 03, 2013
Found in a charity shop, Forest Hall, Newcastle today. ID number not quite right so paid a pound and brought it home to mark up properly before releasing. I was giver of WBN books in 2012 and 2013 and now have an obsession to track down those in charity shops and get them moving again :)
---

Journal Entry
4
by

Diane-Fraser

at
Newcastle upon Tyne, Tyne and Wear United Kingdom on Thursday, January 02, 2014
Reserving for greenbadger'sone book a month RABCK
---

Journal Entry
5
by

Diane-Fraser

at
Newcastle upon Tyne, Tyne and Wear United Kingdom on Wednesday, January 22, 2014
Released 5 yrs ago (1/25/2014 UTC) at Newcastle upon Tyne, Tyne and Wear United Kingdom
CONTROLLED RELEASE NOTES:
Posting to the winner of the RABCK - cestmoi

Enjoy:)
---

How I have never heard of World Book Night?

I was so thrilled to receive this in the mail today and it is up next on my TBR. I will be starting it tonight.


---

I loved this!

I made a pot of tea and sat down with the book, the tea and a plate of digestives and I did not put the book down until I turned the last page. Every now and again, I stopped to read a paragraph out loud to my son or he would ask what was so funny and I would read it to him. Sometimes he just didn't get it...other times he would say, "That sounds like Nana" (my Mum).

Growing up with an English Mum in LIttle Italy (Toronto) was an adventure. We often ate foods that my friends had never even heard of, let alone tasted! When I moved to a small town in England as an 11 year old, my whole life turned around. Talk about culture shock.

This novel brought back so many memories. I was laughing, blinking back tears and nodding in agreement all the way through it. So many things I hadn't thought of in years! Caramac, Flakes, fish and chips in newspaper, Blackpool Pier, school dinners and blancmange (what is that stuff made of???), pies in tins and mushy peas! And pancakes with sugar and lemon! I didn't even know that "other people" put maple syrup on pancakes til I was well into my teens. Every Sunday tea at my Nana's had Victoria sponge with raspberry jam and caster sugar sprinkled on top.

Right from the first page I was hooked!

"It is impossible not love someone who makes toast for you. People's failings, even major ones such as when they make you wear short trousers to school, falll into insignificance as your teeth break through the rough, toasted crust and sink into the doughy cushion of white bread underneath. Once the warm, salty butter has hit your tongue, you are smitten. Putty in their hands."
~ Nigel Slater

My mum's advice any time I was tired, sick, sad or upset, "I'll make you a cuppa and some toast, you'll feel better in no time."
---

I am offering this in green badgers One Book A Month RABCK Contest for March.

This is one of those books that I want to share with everyone but also want to keep because I don't want it to go to someone who won't "get" it.

If you win, I hope you love it as much as I did!
---

Wow, my first World Book Night book ever! And it's here sooner than I expected. And looking so yummy.
Thank you so much, cestmoi!
And please, thank also your sister for me. Without her visiting the UK, carrying
Toast
all the way with her and then mailing it I wouldn't have got it this soon.
I'm already thinking what to do with
Toast
after reading it. I've got a few options in my mind. One of them is
Palkintokaappi
, Finnish forum Trophy Cabinet VBB. That's the reason I'm listing here the awards Nigel Slater has, according to Wikipedia, won for
Toast
. The list is pretty impressive:
2004 André Simon Award
2004 Glenfiddich Food Book of the Year
2004 British Biography of the Year Award
2004 Observer Food Monthly Book of the Year Award
2004 WH Smith People's Choice Award
Nigel Slater
at Wikipedia
Nigel Slater, A cook who writes
, Homepage
---
Toast
was one of the books I put into
Palkintokaappi 6 (VPK VI)
(Trophy Cabinet VBB). It was chosen by Chania and is now reserved for her.
---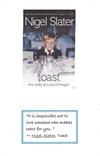 I remember watching
Top Chef
some years ago. One of the chefs/competitors, knowing she wasn't doing well in the day's challenge, defended herself by saying that she had put lots of love in her dish. Quite understandably, the judges did not appreciate the explanation. –
Toast
proves that love really is one of the main ingredients in a dish. The boy's mother may not be the best of home cooks but her son loves her cooking anyway. He loves her so much. And she loves him, of course. And I love the way Slater weaves his food memories into his family circumstances and childhood experiences.
"Cake holds a family together. I really believed it did. My father was a different man when there was cake I the house. Warm. The sort of man I wanted to hug rather than shy away from. If he had a plate of cake in his hand I knew it would be all right to climb up on to his lap. The was something about the way my mother put the cake on the table that made me feel that all was well. Safe. Secure. Unshakeable."
(p. 4)
This book reminded me of the food we had in my childhood and also my first, 5-week visit to England at the age of 15. I had such a good time recollecting those times and especially the meals back then.
Needless to say that I truly enjoyed this book but I say it nevertheless: I loved it.
Thank you so much, cestmoi, for sharing your Toast with me.
---

Journal Entry
11
by
Tarna

at
Pirkkala, Pirkanmaa / Birkaland Finland on Wednesday, February 13, 2019
Released 1 mo ago (2/13/2019 UTC) at Pirkkala, Pirkanmaa / Birkaland Finland
CONTROLLED RELEASE NOTES:
So,
Toast: The Story of a Boy's Hunger
was one of the books in
Palkintokaappi
(Finnish forum Trophy Cabinet VBB) and chosen by Chania. I'm sorry for this huge delay, C. I hope you'll like this tasty and delightful food related memoir. Happy Reading!
---

Journal Entry
12
by
Chania
at
Kokkola, Keski-Pohjanmaa / Mellersta Österbotten Finland on Friday, February 15, 2019
Thank you! Looks like my kind of book!
---

Journal Entry
13
by
Chania
at
Kokkola, Keski-Pohjanmaa / Mellersta Österbotten Finland on Wednesday, March 13, 2019
Loved this! So sad, so funny, so delicious even with mostly bland British food. Really good reading experience!
---
Now going to the winner of the Culinary sweepstakes :)
---