I Capture the Castle
1 journaler for this copy...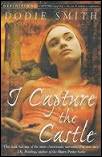 Very strange, it almost makes one believe in coincidences ;-) This was a book that I've had to-be-read for a while, even before The Big Read and the recent film and re-issue raised its profile; and I didn't even know it was based in my adopted county of Suffolk! Cassandra Mortmain is the seventeen year-old narrator who is 'capturing the castle' in a journal, used as a way of honing her writing skills and escaping from the hunger, boredom & dysfunction in her life. This is unashamedly a eulogy to a lost time and place (pst – I'll let you into a secret, a lot of the Suffolk is still like this), I like to think of Dorothy 'Dodie' Smith writing this as an ex-pat in Hollywood* homesick for the weather, manners and geography of England's green and pleasant land. I loved the gentle pace & careful observation, harking back to Austen, with some Cold Comfort Farm humour thrown in as well. The story has a lot of parallels with Pride & Prejudice; contrived efforts to find a partner for Cassy's older sister; a rich young landowner neighbour rescuing the impoverished Mortmains; an eccentric mother and distracted, ineffectual father – the comparisons sort of breaks down there, but you get the idea. The story all ties up nicely. I'll try (again) to get my 11 yo daughter to read this, I sure she'll enjoy it if I can get her away from Jacqueline Wilson!
* she was actually in Pennsylvania at the time, the success of The Hundred and One Dalmatians and screenwriting didn't come until later.
---