When the Rainbow Goddess Wept
Registered by

katopua

of
Flensburg
,
Schleswig-Holstein
Germany on 2/17/2011
3 journalers for this copy...

Journal Entry
1
by

katopua

from
Flensburg
,
Schleswig-Holstein
Germany on Thursday, February 17, 2011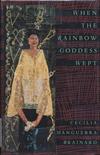 "I had never seen a city as destroyed as Ubec was destroyed ... I felt as lost as the Maiden of the Bugong Sky must have felt when the wicked Giant destroyed her castle and robbed her of the starlight and moonrays from which she spun rainbows ... With a voice quaking like the branches that swayed in the breeze, Papa said it could be rebuilt, and he even better ... as he spoke his voice grew stronger, firmer ... and I knew that invaders could not really destroy Ubec, could never be destroy its people."
Set against the backdrop of the Japanese invasion of the Philippines in 1941, Cecilia Manguerra Brainard's brilliant novel weaves myth and legend together with the suffering and tragedies of the Filipino people.
When nine-year-old Yvonne flees with her family into the jungle to join the resistance effort, she witnesses death and destruction on an almost unimaginable scale. In the face of terror and despair, she finds comfort in the stories her people have passed down over generations. In particular, the legends of Bongkatolan, the Woman Warrior, and the merciful rainbow goddess offer her strength and hope. Yvonne becomes determined to preserve the ancient legends and to give voice to the epic she herself is living. Under the cloud of war, it is a goal almost too to contemplate. But it will define Yvonne and her people with a strength and a clarity more powerful than any weapon.
As an exploration of the collective wounding of the Filipino people and their heroic response,
When the Rainbow Goddess Wept
shows us the Philippine through an insider's eyes and brings to American audiences an unusual reading experience about a world that is utterly foreign and a child who is touchingly universal.
CECILIA MANGUERRA BRAINARD was born in Cebu City, Philippines. Her published works include
Woman with Horns and Other Stories
and
Philippine Woman in America
. She is editor of the anthology
Fiction by Filipinos in America
, and teaches creative writing at the Writer's Program of UCLA Extension. Brainard divides her time between the Philippines and Santa Monica, California, where she lives with her husband and two sons.
Dutton 1994, hardcover, old library book, good condition
---

Journal Entry
2
by

katopua

at
N/A, A Bookcrossing member -- Controlled Releases on Tuesday, March 27, 2012
Released 9 yrs ago (3/27/2012 UTC) at N/A, A Bookcrossing member -- Controlled Releases
CONTROLLED RELEASE NOTES:
Geht leihweise an Aldawen nach Mülheim
---

Gestern aus der Packstation befreit, wird es auch kurzfristig gelesen. Danke!
---

As often with books told from a child's perspective I wasn't happy with the outcome. For a subject like the war and its implications this is far too limited, especially as the family could have been off worse. I don't need detailed descriptions of all possible atrocities but here I sometimes got the impression that Yvonne is treating the war years more like an adventure holiday – despite the war-induced problems and restrictions. Apart from that I liked the traditional stories embedded in the novel plot very much.
---

Came back home safely today.
---

Released 3 yrs ago (11/29/2017 UTC) at Flensburg, Schleswig-Holstein Germany
CONTROLLED RELEASE NOTES:
Macht sich als Leihgabe auf den Weg zum Lesen ohne Zeitlimit.
---

Journal Entry
7
by

book-a-billy

at
München, Bayern Germany on Monday, December 18, 2017
Dieses und zwei andere Philippinen-Bücher sind heute gut bei mir angekommen. Ich freue mich schon darauf, es zu lesen und es wird mir bei der 1 Jahr = 1 Land-Challenge weiterhelfen. Vielen lieben Dank für diese Leihgabe!
---

Journal Entry
8
by

book-a-billy

at
München, Bayern Germany on Monday, June 11, 2018
In contrast to Torgin, I really liked this novel. I find the perspective of a child interesting as children tend to see other details. I didn't have the impression war was an adventure holiday for Yvonne, either. She sees and hears of some atrocities and realizes herself that there were families "far worse off". I liked the embedded traditional stories a lot. I have learned quite a lot from that book.
Thank you very much for letting me share this book.
---

Journal Entry
9
by

book-a-billy

at
-- Per Post geschickt/ Persönlich weitergegeben --, Bayern Germany on Wednesday, June 20, 2018
Released 3 yrs ago (6/15/2018 UTC) at -- Per Post geschickt/ Persönlich weitergegeben --, Bayern Germany
CONTROLLED RELEASE NOTES:
This book may travel back home :-)
---

Dieses Buch ist schon vor Ewigkeiten zurückgekehrt. Wurde aufgrund von Renovierungsarbeiten aber erst jetzt ausgepackt.

Wandert wieder in das Regal mit Philippinischen Autoren und kann gerne erneut ausgeliehen werden.
---