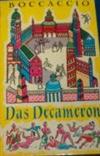 Das Decameron
Registered by

RoseOfDarkness

of
Baruth/Mark
,
Brandenburg
Germany on 2/10/2011
2 journalers for this copy...
Journal Entry
1
by

RoseOfDarkness

from
Baruth/Mark
,
Brandenburg
Germany on Thursday, February 10, 2011
Die Novellensammlung "Dekameron" des italienischen Dichters Giovanni Boccaccio ist eines der ersten Werke der Weltliteratur, in dem nicht nur aristokratisch-höfische Figuren, sondern auch einfache Leute in ihrem mittelalterlichen Alltagsleben und vor allem in ihren erotisch-komischen Verwirrungen geschildert werden. Das Werk besteht aus insgesamt 100 Novellen, die im Zeitraum von zehn Tagen von zehn Erzählern zur gegenseitigen Erbauung, Belustigung und Belehrung dargeboten werden. Daher auch der Titel des Werks: "Dekameron" bedeutet "Zehntage(buch)". Das "Dekameron" ist einem innerweltlichen Menschenbild verpflichtet, es steht mit einem Bein noch im Mittelalter und mit dem anderen bereits im Humanismus: Nicht mehr die göttliche Fügung lenkt die menschlichen Geschicke, sondern der Zufall - der allerdings durch List, Geistesgegenwart und Intelligenz beeinflusst werden kann. Als fundamental erweist sich immer wieder der Trieb, insbesondere der erotische Trieb, der in der Lage ist, jede religiöse oder gesellschaftliche Norm aus den Angeln zu heben. Das "Dekameron" ist auch heute noch, mehr als 650 Jahre nach seiner Entstehung, eine vergnügliche Lektüre.
---
Journal Entry
2
by

RoseOfDarkness

at
-- Per Post geschickt/ Persönlich weitergegeben --, Brandenburg Germany on Saturday, May 14, 2011
Released 11 yrs ago (5/14/2011 UTC) at -- Per Post geschickt/ Persönlich weitergegeben --, Brandenburg Germany
CONTROLLED RELEASE NOTES:
Du hast mich gefunden. Ich würde mich sehr freuen wenn du jetzt eine Nachricht hinterlässt wo und wie ich Dir gefalle. Die Anmeldung ist kostenlos und anonym.
Viel Vergnügen wünscht DAS
Die deutschsprachigen Bookcrosser tauschen sich übrigens in einem öffentlichen Forum aus, in dem jeder Interessierte auch unregistriert mitlesen kann:
Forum Germany
Forum Austria
Außerdem empfehle ich Dir bei Fragen die Supportseite
Supportseite
Welcome to BookCrossing. Thanks for taking the time to visit the site. Please make a journal entry to let me know that you have found this book, you may do this anonymously or you may join. There is no charge to join this site, if you are like myself from time to time you may donate to help support Bookcrossing; but it is not mandatory. If you are new to BookCrossing and choose to join, please indicate that you were referred by RoseOfDarkness. Membership is free and your name and e-mail address is not shared with anyone else and it will never be sold. BookCrossing is a a world-wide group of people who love books and wish to share them with others.
Please enjoy this book, if it is not your genre pass it along to someone else or wild release it. In this way we promote literacy and at the same time we can watch our book continue on it's journey.
"Kindness is a language which the deaf can hear and the blind can read."
Mark Twain
---
Journal Entry
3
by
Lese-Michaela
at
Stuttgart, Baden-Württemberg Germany on Wednesday, May 18, 2011
Danke auch für dieses Buch.
Deine Rezension macht richtig Lust auf dieses nicht mehr ganz neue Werk...
---