The Sea of Monsters
Registered by
cinnamon-quill
of
New York City
,
New York
USA on 1/22/2011

This Book is Currently in the Wild!
3 journalers for this copy...
Percy Jackson is not a normal thirteen year old kid. He has a mother who's mortal, a father who's one of the Twelve Olympians and a tendency to get kicked out of every school he enrols in.
When the school year ends, Percy at least has Camp Half-Blood: a place for children of half-god, half-mortal parentage. Glad to be back amongst his friends, the fun soon ends when the magical tree that protects the camp starts dying and Percy receives a distress call from his friend, Grover.
He sets out on a journey with the bossy but brilliant Annabeth, to face up against both cruel and cry-baby Cyclopes and plenty of other troublesome woes.
Can Percy save Camp Half-Blood and find Grover? To do so…he'll have to survive the Sea of Monsters.
I ran out and ransacked bookstores to find this as soon as I was done with
The Lightning Thief
, the first book in the Percy Jackson series. Still on my high from the first installment, I was keen to see the story continue with the same level of excitement. It did not disappoint.
The world that the author creates, with the ancient Greek gods and monsters living in modern day New York and all throughout America, is a refreshing and exciting read. There were plenty more meddlesome creatures and characters in this book to enjoy and I liked the further insight into some of the old characters as well as seeing plenty of new ones.
The inclusion of a character like Tyson in the book could have been an irksome disaster but Riordan managed to make him a loveable and humourous character that showed another side to Percy and provided him with a lot of growth.
The way in which well-known mythological figures like Hermes and Tantalus were portrayed was sheer brilliance. Riordan really brings to life characters that are just a name and an idea and makes them tangible and quirky.
I liked – both in The Lightning Thief and The Sea of Monsters – that the characters that aren't human can show the greatest qualities of humanity, that both characters like Percy and Annabeth needed to aspire to. It gives the reader something to contemplate and shows another level of depth in the story, where you can see that "monsters" is a label that doesn't define the true nature of a character, just like how the half-bloods are not defined by their parentage.
There was plenty of conflict and intrigue to propel me through this book and the ending was one that had me in despair that I didn't have the third book, 'The Titan's Curse,' on hand. I look forward to reading it.
In accordance with the FTC, I would like to disclose that I purchased this book. The opinions expressed are mine and no monetary compensation was offered to me by the author or publisher.
(From my blog:
Quill Café
)
If you find this book, I hope you enjoy it as much as I did. Please read it and share your thoughts here. Then, pass it on to others so that it can be experienced far and wide. ♥
This book was registered in WELLINGTON, NEW ZEALAND.
---
Journal Entry
2
by
4thEstate
at
-- Mail or by hand-rings, RABCK, meetings, etc, Virginia USA on Saturday, April 16, 2011
Caught this at the Book Buffet table at the BC in DC convention.
---
Sent out via the sci-fi bookbox some time ago.
---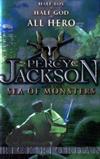 Taken from Erishkigal's
Science Fiction Bookbox
with thanks!
One of these days I'm going to get around to actually reading
The Lightning Thief
. When I do, I may want this one.
Other copies on my BookCrossing shelf:
15185914
•
15855290
•
15994817
---

Still haven't started this series, and I've discovered that I have another copy of this book, so this one will be traveling soon.

Notes for 1st quarter re-do:

Week 2: Trade paperback
Week 11: Green cover
Week 12: Alliterative author name
---


This was one of the books left on the table after our wonderful TOC lunch at
Town
- I hope it finds a new reader!
Wild released for msrubble's
2016 movie challenge
, Secretariat's
2016 Never Judge a Book By Its Cover
Challenge (week 13: 1st quarter re-do) and AlterEgoZoe's
Leap into the Wild Challenge
.
(Larger photo
here
- after following link, click on image to zoom.)
~ ~ ~ ~ ~
Since Pakistan's flag is green and white, this book with a predominantly green cover is released for the victims of the recent bombing in Pakistan. Most people want to live their lives in peace: I wish it wasn't so hard to do so.
~ ~ ~ ~ ~
I'm so glad you've found this book!
Won't you please make a journal entry to let the book's previous readers know that it's safely in your hands? How did you find it? What did you think of it? What are you going to do with it next?
It's now your book, for you to do with as you please: keep it, pass it to a friend, or maybe even leave it where someone else can find it!
If you've ever wondered where your books go after they leave your hands, join BookCrossing and you may find out: you'll be able to follow the further adventures of your books as new readers make journal entries - sometimes from surprisingly far-flung locations.
(Think of it like Where's George for books...or a little like geocaching - you can follow the book's journey every time someone makes a new entry. Some BookCrossers even leave books *in* geocaches!)
BookCrossing: making the whole world a library!
---