Hurray! The Bookplate Creator is back!
We've been promising it for a long time, and now it's finally here... We have a brand new Bookplate creator. Read all about it in this Announcement forum post!
Idlewild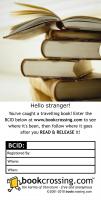 1 journaler for this copy...
Pre-numbered label used for registration.
---
Journal Entry
2
by
phantomreader42
at
Warner Robins, Georgia USA on Friday, September 30, 2011
I found
the third book in this series
at a dollar store. The name "
Sagan
" caught my eye, of course. I started it before I knew it was the third in a trilogy, seemed interesting but hard to follow because I'd missed so much. So I worked my way backwards, finding the rest of the series when I could.
John Scalzi
's recommendation was a plus.
The book is quite a ride, starting with an amnesiac teenager named Halloween who's as confused as the reader at the strange events around him at a school held in virtual reality and run by an AI of questionable purpose and stability, with students as unpredictable as their environment. Someone is trying to kill him, and he has no idea who, or why, and no one he can trust to help him find out. Then he finds out that reality is much stranger than he'd ever imagined. And it's all interspersed with distant events that slowly reveal the truth from a different angle. I picked up some spoilers from starting on the last book, but it was still surprising and enjoyable overall.
There's a better handling of the side-effects of long-term VR than the Matrix even came close to.
Quotes:
Don't place faith in human beings. Human beings are unreliable things.
~Machines of Loving Grace, "Butterfly Wings"
"There are no miracles. Not for you, certainly not for me. Not for any of us."
"No, not for any of us...But what about
all
of us?"
I felt like an intruder. I felt like Goldilocks in hell.
Tell me what treasure is worth the oxygen in a good man's brain?
Books by Nick Sagan:
Idlewild
Edenborn
Everfree
You Call This The Future?
---