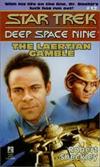 The Laertian Gamble (Star Trek: Deep Space Nine, No 12)
3 journalers for this copy...
This used paperback was an xmas gift from dw.
---
My expectations of Star Trek: Deep Space Nine books are not so high to begin with, and I have read most of them. I just want a little light entertainment, maybe on a par with one of the episodes. But this one hits a new low. It features one of my least favorite characters, Dr. Bashir, and portrays him as a dolt, tricked into gambling with Quark until Quark loses his club, the station itself, and possibly settled planets, by an alluring alien woman named... Allura. It is a stupid plot involving stupid characters, driven by a stupid concept known as "Complexity Theory". Maybe this would be a comedy, if it were funny, but no it's just dumb.
---
My son from Chicago is a big fan of DS9. He was visiting us in Beaufort SC, was intrigued by my description of this as "the worst book ever written," and took it to read.
---

Journal Entry
4
by

AnonymousFinder

at
Beaufort, South Carolina USA on Thursday, October 14, 2021
My Dad is crazy. I read this and it is a good book, like an episode of the show that was never broadcast. There was also a character on the show named Aluura - one of the Dabo Girls at Quark's. Giving the book back to my Dad.
---
The book is back on my shelf. My son finished it before he returned to Chicago.
---