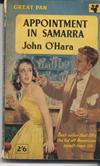 Appointment in Samarra: A Novel
5 journalers for this copy...
Have you ever held a book and wondered where it had been before you came to own it, or where it will end up once you have finished with it? Well, welcome to the world of bookcrossing.
It would make someone's day if you add a journal entry to tell those who had the book before you where you found it. You can remain anonymous if you want to, though if you create a screen name you will be able to get notification each time someone else journals this book.
When you have finished share your thoughts on the book, then please release the book (and make a journal entry stating where you left it) to let it continue on its journey.
Following this book on its travels can be very fun.
.................................................................................................
This book has been released to raise awareness of
Hands Around The World
, a small charity that seeks to help vulnerable children around the world, encouraging enthusiastic and well-prepared short-term volunteers to offer practical help, skill-sharing, support and friendship. Click
here
, if you would like to find out more about what we do.
---
Journal Entry
2
by
handsroundworld
at
Monmouth, Wales United Kingdom on Tuesday, November 16, 2010
Appointment in Samarra, published in 1934, is the first novel by John O'Hara. It concerns the self-destruction of Julian English, once a member of the social elite of Gibbsville (O'Hara's fictionalized version of Pottsville, Pennsylvania).

Our introduction to him comes seven pages into the novel, in the thoughts of the wife of one of his employees: "She wouldn't trade her life for Caroline English's, not if you paid her. She wondered if Julian and Caroline were having another one of their battle royales."

On successive days, he commits three impulsive acts of not-quite-unforgivable behavior in social situations, which are serious enough to damage his reputation, his business, and his relationship with his wife.

O'Hara never gives any obvious cause or explanation for his behavior, which is apparently predestined by his character. Facts about Julian gradually emerge throughout the novel. He is about thirty. He is college-educated, owns a well-established Cadillac dealership, and within the Gibbsville community belongs to the high-ranking "Lantenengo Street crowd."

The title is a reference to W. Somerset Maugham's retelling of an old story, which appears as an epigraph for the novel: A merchant in Baghdad sends his servant to the marketplace for provisions. Shortly, the servant comes home white and trembling and tells him that in the marketplace he was jostled by a woman, who he recognized as Death, and she made a threatening gesture. Borrowing the merchant's horse, he flees at top speed to Samarra, a distance of about 75 miles (125 km), where he believes Death will not find him. The merchant then goes to the marketplace and finds Death, and asks why she made the threatening gesture. She replies, "That was not a threatening gesture, it was only a start of surprise. I was astonished to see him in Baghdad, for I had an appointment with him tonight in Samarra."
---

Journal Entry
3
by
bookowl1000
at
Chepstow, Wales United Kingdom on Tuesday, December 07, 2010
Picked up from the HATW office; looks like it could be an interesting read.
---

Journal Entry
4
by
bookowl1000
at
Chepstow, Wales United Kingdom on Monday, January 24, 2011
Taken with me to Bangkok as a part of my
Set It Yourself Reading Challenge Jan to March 2011
, I have just finished it while sat next to the pool.
While at the Country Club, Julian hurled a drink at Harry Reilly, and I am not sure I really understand why, but it did have some devastating consequences. At first it would seem impossible that someone could so much unravel in just three days, but then all that is needed is a trigger to bring lots of undercurrents to the surface and change everything.
This book was an enjoyable read with some interesting characters, and we do find out a lot about others who live in the town other than Julian, as the novel switches between his internal narration, to their stories. The story does build up to a dramatic ending, it is just a shame that we loose Julians narration and see it through the eyes of others. A snapshot of 1930s small town America.
I have entered this book into the
First Sentences Virtual Bookbox Round 4
.
First sentence: "Our story opens in the mind of Luther L. for LeRoy) Fliegler, who is lying in his bed, not thinking of anything, but just aware of sounds, conscious of his own breathing, and sensitive to his own heartbeats."
---

Journal Entry
5
by
bookowl1000
at
Bangkok, (Bangkok) Krung Thep Mahanakhon Thailand on Tuesday, February 15, 2011
Released 8 yrs ago (2/15/2011 UTC) at Bangkok, (Bangkok) Krung Thep Mahanakhon Thailand
CONTROLLED RELEASE NOTES:
Posted to kizmiaz who selected it from the book box.

I would have liked to have put some colourful stamps from Thailand on the package, but my method of posting packages is to hold them up and hope that they realise that holding up an addressed package in a post office means that I want to post it.

Hope you enjoy it.
---

just got it. All the way across the world, isn't BC great?
Loved the postcard.
---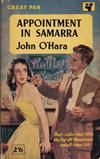 A well written book about life in a small town in America in the early 1930´s.
The author really knows his stuff and writes brilliantly about small town mentality and the status quo.
The way Julian messes up his well tailored life and how easily all the rivalries come together to push a drowning man down is very well depicted and certainly worth reading. Great characters and plot are the icing on the cake.
---

---
Journal Entry
9
by
joaquimponte
at
Lisboa - Lumiar , Lisboa (cidade) Portugal on Friday, February 06, 2015
Today I had an "Appointment in Lisbon", with this book. An attractive cover,a 1958 edition and a Hemingway quote that alone made me open the book immediately.
Also a reference to Hands Around World Organization ,which is a nice coincidence given that international volunteering is one of my life's options.
Eager to read and free him .

Thanks very much to kizmiaz
---
Journal Entry
10
by
joaquimponte
at
Lisboa - Lumiar , Lisboa (cidade) Portugal on Saturday, June 06, 2015
Appointment in Samarra is a portrait of American society during the Great Depression and the Prohibition time, in a small province city . It's also the story of the decline of a man's life (Julian) in just 3 days (on Christmas Eve 1930).
A novel that manages to retain an element of suspense and even strangeness, as if Julian attitudes that lead to a tragic end are inexplicable, even absurd almost like Kafka's style. Also the character's description is detailed and non stereotyped .
About the final, I can only say that is perfectly suited to its title. In fact "Appointment in Samarra" is also the title of a Somerset Maugham's book which is based on an eastern legend (as described in a previous summary).
It seemed to me that, within this novel, behind social analysis, behind the description of a common life in a common city, there was somewhere in the crowd, the woman of Maugham's eastern legend determining Julian's fate.
Julian's attitudes are common, but the context in which they arise and the social response, both converge to a tragic end, as if there was a previously marked destination.

A curious, interesting story, a bit like Scott Fitzgerald, a bit like Kafka, a bit like Roth's" Human Stain" a bit like the 1001 Nights. And totally O'Hara's mastery.
---
Journal Entry
11
by
joaquimponte
at
Lisboa - Lumiar , Lisboa (cidade) Portugal on Monday, October 26, 2015
Released 3 yrs ago (10/26/2015 UTC) at Lisboa - Lumiar , Lisboa (cidade) Portugal
CONTROLLED RELEASE NOTES:
Once again this romance will travel, this time to France, where Tuanita 's waiting for him. It was chosen by the sorting hat in my RABCK d'O Chapéu Sellecionador (Sorting hat RABCK :)

---

It's here!!!
Thank you so much for your RABCK, joaquimponte, I can't wait to read it :-D
And it's so nice to see that this book has already been around the world!!
WOW!
Thanks everyone!
Now let's read it...

---