Atonement
2 journalers for this copy...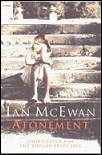 IMHO Ian McEwan's best yet, and I should know, I've followed him through many ups and downs from the early 1-demensional & dark Cement Garden, to the excellent Enduring Love, and less polished Amsterdam. Its good to see an author grow, and become more confident tackling wider subject matter, different periods and different voices (here a young girl & older woman etc.) The first part is excellent, worth the entrance fee on its own; a moody, hot summer day, the end of innocence - a big McEwan theme - the expectation of war, the gradual building of tension towards the shocking climax. Then the focus moves to the wronged party, and his incredible journey to escape from Dunkirk, some of the best (anti-) war literature i've ever read. I enjoyed parts 3 & 4 of the novel less, but they still very good, I thought some of it was contrived. But I won't give any more away. I would recommend this book to anyone..i've just given it an extra star, it doesn't get much better than this, quality writing, passion, cracking multi-layered story...a sort of happy ending (this is Ian McEwan after all!)
---

---
I have wanted to read 'Atonement' for quite a while now, so a big 'THANK YOU' to BookGroupMan for very kindly sending it my way :-) I am looking forward to reading it soon.
---