How to be Good
2 journalers for this copy...

Journal Entry
1
by
BookGroupMan
from not specified, not specified not specified on Friday, July 25, 2003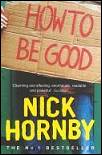 I think my favourite Nick Hornby yet, I do believe he's growing up into a real author! Not as obviously lad-lit this one, none of the geeky lists, not too much male angst. He still hasn't left 'norf larnden' but it is a real story addressing issues about personal morality, social responsibility, and the modern male-condition. OK, he still plays it for laughs (consistently funnier than About a Boy, and with fewer in-jokes than Hi Fi & the footy book), but a very good thoughtful book.
---

---

Journal Entry
3
by

AnonymousFinder

on Tuesday, April 06, 2004
I got this book of my friend and she told me to read it and pass it on when I had finished so I left it on a park bench

CAUGHT IN LEYLAND LANCASHIRE ENGLAND
---