The Mistress of Spices
4 journalers for this copy...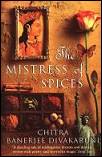 This book does do what is says on the packet, but ends up a bit of a dogs-dinner, indian mysticism in cynical LA, didn't quite work for me! I quite liked a couple of the stories transplanting sub-continental cultural issues into the city, generation-gap, confused identity, arranged marriages etc. (arranged a bit like 'Tales of the City'), and I liked some of the herb sidelines. Actually, maybe I liked it more than I thought :-) I did read it in one sitting on a long dull train journey from Suffolk to North Wales, so it didn't really 'stick'. Finally, bizarrely, the 'magic' shop reminded me of Mr Benn's fancy dress shop - one for UK 30-somethings!!
---

---
Recieved in the mail this morning, thank you! Looks like an intriging read, as the back says, a combo of myth, romance, social critique and poetry. On my TBR pile.
---
This reminded me of Chocolat by Joanne Harris, the way in which spices are evident and used throughout was interesting - being a vegetarian I enjoyed reading about the spices and the way the author chose to incorporate them into the story was good. I'm not a big fan when it came to the end of the book - a bit of a let down when I thought she would at least burn in the fire!!!Overall a good book, although some of the ideas seem far fetched and out of reach......
---
passed onto thechinasourcer at the Norwich meetup.
---

Many thanks for this book.
---

I really enjoyed this book. I loved the combination of magic and reality, Tilo's world and the real world outside, not a bit like a dogs-dinner to my mind ;)
I liked the ending too, not too sweet, not too happy or sad, but with a promise of happiness to come. I'll be looking out for more by this author.
---

Taken from the BookRelay by sstich79 and posted today.
---
What a nice surprise to find this waiting in my mailbox when I got home today. Thanks so much; I'm looking forward to it!
---