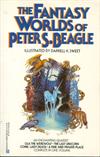 The Fantasy Worlds of Peter S. Beagle
3 journalers for this copy...

Welcome to BookCrossing!

Please leave a journal entry to let us know how you found the book. You may do so anonymously, or if you register as a member (it's free and spam-free) you will be able to receive future journal entries on this book and track it as it travels around the world! (You may put me, slb453, as your referring member.)

Please also leave a journal entry when you finish reading the book to let us know what you thought!

Feel free to pass the book on to someone else or wild release it for someone else to find (please make release notes to let us know where the book is going). Let's see how far this book can travel and how many lives it can touch!

Thanks a bunch, and Happy BookCrossing!
---

Journal Entry
2
by
slb453
at
Holiday Gift Giving 2010, Holiday Gift Giving -- Controlled Releases on Wednesday, December 15, 2010
Released 9 yrs ago (12/15/2010 UTC) at Holiday Gift Giving 2010, Holiday Gift Giving -- Controlled Releases
CONTROLLED RELEASE NOTES:
Mailing this to another BookCrosser for Holiday Gift Giving!

I apologize for the poor condition of the book. I searched my local Friends of the Library store for something on your wishlist, and this was the only book I could find from your wishlist. It is definitely a well-used book, but I hope you will enjoy the read.

Best wishes for a very Merry Christmas and a Happy New Year! :)
---

Received from slb453 for Holiday Gift Giving 2010, as A Fine and Private Place was on my wishlist. I've read The Last Unicorn, but I'm looking forward to the others. Thank you!
---

This volume contains two novels, a novella, and a short story, so I'll review them each separately.

Lila the Werewolf: A strange and somewhat sad tale of a young woman who occasionally turns into a wolf, much to the dismay of her boyfriend. A good example of "just because it's fantasy doesn't mean it's for children". It's written well, just a little disturbing to read.

The Last Unicorn: This is a marvelous book. I've read it before, and did not reread it this time around, but it remains one of my favorites.

A Fine and Private Place: A tale of two ghosts, a raven, and a man who lives in a cemetery. It's decidedly bittersweet, with a little humor here and a little tragedy there. It was very introspective and atmospheric - a "quiet" book, if you will. I liked the snarky raven - and I thought it odd how, in a cemetery where people think talking to ghosts is a little weird, no one ever mentions how unusual it is for a raven to speak. I wish there had been just a little bit more about Laura and Michael, especially there at the end, but all in all it was good.

Come Lady Death: An old woman decides to invite Death to her next party - and Death does indeed attend. The ending left me a little cold, but otherwise it was a decent story.
---

Journal Entry
5
by
melydia
at
Potbelly Sandwiches (Crystal City) in Arlington, Virginia USA on Saturday, February 09, 2013
Released 7 yrs ago (2/9/2013 UTC) at Potbelly Sandwiches (Crystal City) in Arlington, Virginia USA
WILD RELEASE NOTES:
Taking this to the BCinDC meetup at Potbelly in the Crystal City underground shops. If no one claims it, I'll leave it on the OBCZ shelf at the Crystal City Sheraton across the street.
---

Journal Entry
6
by

OBCZSheratonCrystalCity

at
Arlington, Virginia USA on Sunday, February 10, 2013
This was leftover after our meetup in Crystal City at Potbelly, so BCinDC members slipped it onto the shelves at the OBCZ at the Sheraton Crystal City.
---