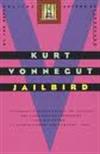 Jailbird
6 journalers for this copy...
"Jailbird is a novel by Kurt Vonnegut, originally published in 1979. Its plot concerns a man recently released from a low security prison after having served time for a minor role in the Watergate scandal. The novel uses a standard memoir format, revealing Walter F. Starbuck's current situation, then going back to tell the story of his first two days after being released from prison."

Source: http://en.wikipedia.org/wiki/Jailbird


---
I tried reading this book twice, and could not get into it at first. The introductory part just seemed to go on, and on, and on... But the third time I picked up this book, my reading went smoothly, especially after I passed the intro and got to read about Walter F. Starbuck.
Usually, if I can't get into a book within the first 30-40 pages, I give up.
I'm glad I stuck with this one as it turned out to be not at all bad. :)
---
Journal Entry
2
by
vedranaster
at
Zagreb, -- By post or by hand/ in person -- Croatia on Wednesday, December 22, 2010
Released 8 yrs ago (12/27/2010 UTC) at Zagreb, -- By post or by hand/ in person -- Croatia
CONTROLLED RELEASE NOTES:

Jailbird will spread its wings this Monday, in a controlled release as part of an international book ray. The first to get the book will be kizmiaz.
I hope you all enjoy the book! :)


Current participants are:

• kizmiaz (Portugal) - ship within Europe ... READ
• sedna5213 (Germany) - ship anywhere ... READ
• davemurray101 (Australia) - ship anywhere ... READ
• LilMikey (China) - ship anywhere ... READ

I will keep this list up to date in case anybody else signs up, but right now it looks as though the ray will be a short one.

Sign up in this forum thread and PM me so I don't miss your post. State your shipping preference and I'll try to accommodate, but be aware that the ray is international, so be prepared to post international if need be. Thanks! :)

After you have finished reading the book,
please PM the person next in line for their postal address.

And naturally, the last in line can do whatever they want with the book...
Ray it, ring it, RABCK it, wild release it, or even keep it. :)

Thank you, everyone for participating
and making the ray a success! :D

The book made 6 stops and travelled roughly 38999 km / 24233 miles.
---

Just got it, thanks vedranaster.
It'll be next on my reading list.
---


Ok, I really went on a binge with this one, one Vonnegut filled weekend.
The narrative is done with such craft that you can't help but keep turning the pages to see where it all goes, the characters are lifelike, and that's the best compliment any author can get, and the story itself leaves you thinking about a lot of what goes on around us every day.
It also deals with the reality of The American Dream, which turned into a monstrous nightmare for a lot of the dreamers; one might say that Corporate America crushed the land of the free.
There are a lot of historical facts and figures in this story and they help not only in improving our knowledge of the past but also to gain perspective on the present. Of these various facts I was most disturbed by the Sacco and Vanzetti trials and executions, how could that happen like it did? But most recently we've seen that the American Justice keeps making this sort of decisions (just do a research on The West Memphis Three and you'll see) and getting away with it.
Walter is one unlucky guy but he doesn't really mind it much, he is conformed to his situation, he was caught by the capitalist monster that turns countries into money making corporations and forced to surrender all his ideals but he doesn't feel defeated, not much. He also doesn't really have any feelings for anyone and that is as much a blessing as a curse.
---

The book arrived today! Looking forward to reading it!
Thanks for sending it over kizmiaz and vedranaster for sharing!

Enjoyed the book a lot. Really liked Vonnegut's writing.
---

The jailbird is travelling to Valentine on St. Valentine's Day :).
---
Journal Entry
7
by
davemurray101
at
Valentine, New South Wales Australia on Tuesday, February 22, 2011
Jailbird arrived in the post today and I really look forward to reading this one. Thanks to Vedranaster for hosting and sedna for posting it on with the nice card.
---
Journal Entry
8
by
davemurray101
at
Valentine, New South Wales Australia on Sunday, February 27, 2011
This is perhaps the best Vonnegut book I have ever read. Entertaining and at the time a harsh social satire. Will post to LilMikey as soon as I have an address. Thanks again to vedranaster.
---
Journal Entry
9
by
davemurray101
at
Valentine, New South Wales Australia on Sunday, March 13, 2011
posted to LilMikey of Shanghai
---
I got the book about a week or two ago.
I'm reading now, good first half.
---
Passed on to family in the US.
---

Journal Entry
12
by

AnonymousFinder

at
Lakeside, California USA on Sunday, July 24, 2011
Given to me by Grandson, not the typical of what I would select. Passed it on to a neighbor who is leaving for Bangkok, Thailand.
---