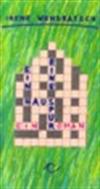 Ein Haus eine Spur ein Roman
Registered by
Elli94
of
Wien Bezirk 07 - Neubau
,
Wien
Austria on 10/3/2010

This Book is Currently in the Wild!
6 journalers for this copy...

Für eine Box aus dem Bücherregal aus der Zieglergasse entnommen.
---

Released 12 yrs ago (2/18/2011 UTC) at Wien Bezirk 07 - Neubau, Wien Austria
CONTROLLED RELEASE NOTES:
---
Irgendjemand dürfte einen unerschöpflichen Vorrat an diesem Buch haben, denn fast jedes Mal, wenn ich zum Offenen Bücherschrank komme, liegt ein Exemplar drinnen. Und es ist nie dasselbe, ich hab nämlich schon mal eines markiert um zu überprüfen, ob es ein "Ladenhüter" ist.
Jetzt kann aber mein registriertes Exemplar, das ich übrigens auch im Offenen Bücherschrank gefunden habe, nicht mehr mitreisen.
---

Journal Entry
4
by
teufelchen007
at
sent by mail (Graz) in -- Per Post geschickt/ Persönlich weitergegeben --, Steiermark Austria on Wednesday, June 12, 2013
Released 9 yrs ago (6/12/2013 UTC) at sent by mail (Graz) in -- Per Post geschickt/ Persönlich weitergegeben --, Steiermark Austria
WILD RELEASE NOTES:
Liebe Finderin! Lieber Finder!

Viel Spaß beim Lesen!!!
Bitte hinterlasse hier einen kurzen Eintrag, wie das Buch zu dir gekommen ist, wie es dir gefallen hat und was du nach dem Lesen damit machen möchtest (das kannst du auch gerne anonym machen).

Bookcrossing.com ist eine kostenlose Gemeinschaft und absolut spamfrei (Falls du dich registrieren möchtest).

DANKE!


Dear Finder,
Congratulations on finding this book! I hope you enjoy it.
I'd be thrilled if you took the time to let me know what you will be doing with this
book once you've read it by making a journal entry.
Please note that joining
bookcrossing.com is anonymous & free!
Thanks!!!

---
Herzliches Danke für den Büchertisch beim Salzkammerguttreffen 2013.
---

Journal Entry
6
by

lytteltonwitch

at
Landgasthof Hocheck in Altmünster, Oberösterreich Austria on Thursday, August 1, 2013
Released 9 yrs ago (8/2/2013 UTC) at Landgasthof Hocheck in Altmünster, Oberösterreich Austria
WILD RELEASE NOTES:
Released onto the book table for the 2013 meeting Unconvention Salzkammergut
---

habe das Buch vom Büchertisch im GH Hocheck mitgenommen um es bald freizulassen


Liebe Finderin, lieber Finder,

Gratulation, dass Du dieses Buch gefunden hast! Ich hoffe, es gefällt Dir. Du hast nicht nur ein Buch, sondern eine ganze Gemeinschaft von Leserinnen und Lesern gefunden, die Bücher lieben. Schau Dir die Seite mal an! Ich würde mich sehr freuen, wenn Du Dir die Zeit nimmst, einen Journal-Eintrag zu machen und mich so wissen zu lassen, wo das Buch gerade ist und was Du damit vor hast. Vielleicht willst Du Bookcrossing ja beitreten? Das ist anonym, kostenlos und macht Spaß!
Infos auch auf http://www.bookcrossers.at/
bzw http://www.bookcrossers.de/

Im Forum http://www.bookcrossing.com/forum/14/ gibt es Hilfe bei Fragen und Infos zu Bookcrossing und auch der Spaß kommt nicht zu kurz.
In Österreich gibt es auch ein eigenes Bookcrossing-Forum auf: http://bcat.a-z.in/

Wenn Dir die Idee von Bookcrossing und dieses Forum gefällt, kannst Du Dich kostenlos bei Bookcrossing registrieren und mit anderen Bücherfreunden in Kontakt treten.

Sicher gibt es am Anfang einige Fragen zu Bookcrossing, die Dir im jeweiligen Forum immer schnell und freundlich beantwortet werden. Es gibt keine "dummen" Fragen :-)



Hello! Bookcrossing is an online community of book lovers dedicated to sharing books with each other and the world at large. We are curious to see how far and wide this book will travel and how its readers like it. Kindly make a journal entry to let us know it's found a new reader.
Feel free to read and keep this book, pass it on to a friend, leave it back on the shelf or somewhere else for the next reader. If you journal this book as a member, then you will be able to follow the book as it travels around. Happy reading!
---