Hotel Du Lac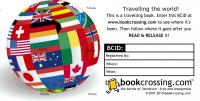 Registered by

bookstogive

of
Springville
,
Tennessee
USA on 10/2/2010

This Book is Currently in the Wild!
4 journalers for this copy...
Journal Entry
1
by

bookstogive

from
Springville
,
Tennessee
USA on Monday, March 12, 2012
This book is available and will be released soon into the wild

Amazon Editorial Review

By the New York Times bestselling author of The Bone Clocks and Cloud Atlas

"A brave new book for a brave new world—fueled by a brilliant imagination and buoyed by beautifully descriptive writing."—USA Today

A gallery attendant at the Hermitage. A young jazz buff in Tokyo. A crooked British lawyer in Hong Kong. A disc jockey in Manhattan. A physicist in Ireland. An elderly woman running a tea shack in rural China. A cult-controlled terrorist in Okinawa. A musician in London. A transmigrating spirit in Mongolia. What is the common thread of coincidence or destiny that connects the lives of these nine souls in nine far-flung countries, stretching across the globe from east to west? What pattern do their linked fates form through time and space?

A writer of pyrotechnic virtuosity and profound compassion, a mind to which nothing human is alien, David Mitchell spins genres, cultures, and ideas like gossamer threads around and through these nine linked stories. Many forces bind these lives, but at root all involve the same universal longing for connection and transcendence, an axis of commonality that leads in two directions—to creation and to destruction. In the end, as lives converge with a fearful symmetry, Ghostwritten comes full circle, to a point at which a familiar idea—that whether the planet is vast or small is merely a matter of perspective—strikes home with the force of a new revelation. It marks the debut of a writer of astonishing gifts.
---
Journal Entry
2
by

bookstogive

at
Horsham, Pennsylvania USA on Wednesday, July 08, 2015
Releasing as a selection from the General Literature VBB, Happy Reading!

To the finder of this book:

Welcome to BookCrossing! This book you found is now yours to read, enjoy, keep or pass on to another reader.

The BookCrossing ID, which you entered in the "Enter a BCID" box on the website, is unique to this copy of this book. We would be delighted if you would make a journal entry to say you have found the book.

BookCrossing is free to join and a great deal of fun, completely confidential, and you may remain anonymous. If you choose to join please consider using me BOOKSTOGIVE as your referring member.
---

Journal Entry
3
by

ReallyBookish

at
Horsham, Pennsylvania USA on Wednesday, July 22, 2015
This arrived today from bookstogive as a selection from her General Literature VBB. Thank you very much!
---

Journal Entry
4
by

ReallyBookish

at
Horsham, Pennsylvania USA on Wednesday, December 07, 2016
Interesting book. Not necessarily a light or easy read -- fairly dense prose with long words, sentences and paragraphs. Light on "plot," in the traditional sense of the word, this novel is more of a character study. It's about an English woman's transformation as she stays in a Swiss hotel after an upsetting episode in her life. Quiet and understated.
---

Journal Entry
5
by

ReallyBookish

at
Horsham, Pennsylvania USA on Friday, February 24, 2017
Reserving for the General Literature VBB.

Description from Amazon:

"In the novel that won her the Booker Prize and established her international reputation, Anita Brookner finds a new vocabulary for framing the eternal question 'Why love?' It tells the story of Edith Hope, who writes romance novels under a psudonym. When her life begins to resemble the plots of her own novels, however, Edith flees to Switzerland, where the quiet luxury of the Hotel du Lac promises to resore her to her senses.

But instead of peace and rest, Edith finds herself sequestered at the hotel with an assortment of love's casualties and exiles. She also attracts the attention of a worldly man determined to release her unused capacity for mischief and pleasure. Beautifully observed, witheringly funny, Hotel du Lac is Brookner at her most stylish and potently subversive."
---

Journal Entry
6
by

ReallyBookish

at
General Literature VBB, Virtual Bookbox -- Controlled Releases on Wednesday, March 01, 2017
Released 2 yrs ago (3/2/2017 UTC) at General Literature VBB, Virtual Bookbox -- Controlled Releases
CONTROLLED RELEASE NOTES:
---
Arrived today. Thank you!
---
I found this very enjoyable. Simply written and easy to read, it tells the tale of Edith, a 39-year-old romance writer who is pushed to go on an extended vacation by friends who feel she has not behaved properly. We aren't told exactly what she did to upset people until well into the book, but instead are given little tastes of her life until it finally comes together.

The friends made a reservation at a Swiss hotel, a proper hotel that welcomes only the "right kind" of guests. She is welcome because she is quiet and behaves properly. Other guests spend extended lengths of time there, both of their own volition and because they may be foisted off by relatives.

In the style of older hotels, there are set meal times and tea times and generally the guests all eat the same things, with minor variations. So Edith, the writer, finds herself mixing with others during these times. Thus she meets interesting characters and muses on her own ability to understand others. In fact she wonders just how perceptive she really is, given that writers are supposed to have special powers in this area.

It's a good time for reflection. Edith knows that her friends are expecting her to return apologetically but it appears that Edith does not see her behavior in that same light. Nevertheless, she does muse on her own ability to find love, as opposed to the ability of her romantic leads to do so.

This is not a sweet romantic book. It is surprisingly complex and interesting.
---
Sent to catsalive, who requested it from the First Sentences VBB. Tracking number LZ410715095US
---

---

Journal Entry
11
by
catsalive

at
Norwegian Jewel cruise ship in -- Lakes, ports, waterways, ships, Alaska USA on Tuesday, October 08, 2019
Released 2 mos ago (9/24/2019 UTC) at Norwegian Jewel cruise ship in -- Lakes, ports, waterways, ships, Alaska USA
WILD RELEASE NOTES:
Left at the park entrance by my sister in her travels.
---