The New Policeman (New Policeman Trilogy)
4 journalers for this copy...

This is a place of mystery...a sanctuary. Every book, every volume you see here has a soul. The soul of the person who wrote it and of those who read it and lived and dreamed with it. Every time a book changes hands, every time someone runs his eyes down its pages, its spirit grows and strengthens.





Carlos Ruiz Zafon, The Shadow of the Wind



Dear Reader

Welcome to BookCrossing, especially if it is your first time here. I am really pleased that you found this book. It is a gift from me to you. If you wish you may hold on to it, but I hope that you will pass it on, either to a friend or loved one, or by leaving it to be found again. That way our book will be on an adventurous journey which we can follow as it gets passed along.

In the meantime, did you read the book? What did you think of it? Also, what do you think of the idea of BookCrossing? Feel free to write any thoughts when you come back to make a journal entry for this book.

While you are here, why not take a look around our website? It is completely free to register, it is safe and spam free and, if you do join, you will receive email alerts when this book is found again. I would be delighted if you wish to mention me, shelj7k, as the member who introduced you.



Happy Reading!



---
From the cover:

There is never enough time in Kinvara. When Helen Liddy is asked what she wants for her birthday, she says, "Time. That's what I want. Time."

Fifteen year-old JJ is continuing the Liddy family tradition with his fiddle-playing. But one day he discovers that music might not be the only thing that runs in his veins. Can it be true that his great-grandfather was a murderer?

When JJ sets out to buy his mother some time he discovers the answer, as well as some truly remarkable things about music, myth and magic.

Who knows where time goes?

JJ does.
---
This is a well deserved Winner of the Whitbread Children's Book Award, or perhaps I am biased because I know Kinvara and the area so well. The book took me right back to long childhood summers in rural Ireland, listening to my Uncle Padraig's stories of leprechauns and fairy forts, and the legends of Finn Mac Cumhail and stories of Dagda and the Tuatha Dé Danann! Then there was always music. To this day when you enter a pub in Ireland (especially in the countryside) you never know when a musician will start up a session. I loved that the book included pieces of traditional music at the end of each chapter. I only wish I had the skill to play it. The New Policeman tied up a lot of legends and stories in a very satisfying way. It was a fun and quick read.
---
I really liked this book. I hope you do too.
On its way to Hyphen8 who won my Young Adult RABCK. Enjoy!
---

Sounds like a fun book ..and it was generously sent to me all the way from Ireland! Thanks very much for sharing - your J must be pretty special to inspire such a nice RABCK. :)
---

Finally got around to reading this, and loved it.

JJ just wants to get his mother what she wants for her birthday, and gets much more than he bargained for.

I'd love to hear some of the music played; I'm not holding my breath, but maybe I'll get to Ireland someday...and visit a souterrain?! Amongst other things, I'll need to find the time. :p

---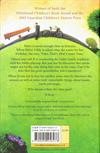 A lovely bit of Ireland to go into JennyC1230's
Shrinking Teens Bookbox
; I'll count this release for Secretariat's
2014 Never Judge a Book By Its Cover
Challenge (week 11), KarmelK's
Celebrate the Irish
challenge, and Secretariat's
Oh, the Places We Can Go
challenge.
I like that in this case the cover artist seems to actually have some idea about the story: I believe those are socks on the bushes. :)
---

Journal Entry
8
by
JennyC1230
at
Woodstock, Georgia USA on Monday, April 14, 2014
This book returned in the
Teens Shrinking Bookbox
.
My daughter, RCOUFAN and I will look through and read/release or pass on the books in some way. Thanks for sharing!
---

Journal Entry
9
by
JennyC1230
at
Woodstock, Georgia USA on Wednesday, May 14, 2014
My Review:
This was a great story! A lot of fantasy and interesting characters in this book. I love that it was set in Ireland. Such a fun story!
I love the melting clocks on the cover. It reminds me of a painting:
The Persistence of Memory (1931)
by my favorite artist
Salvador Dali
.
Saved for a bookbox.
---

Journal Entry
10
by
JennyC1230
at
Woodstock, Georgia USA on Friday, May 23, 2014
Putting this book in my
Teens VBB
(US only). This VBB is open to new participants if you want to join send me a PM.
---

Journal Entry
11
by
JennyC1230
at
~~~ ♥ ~~~ A Friend ~~~ ♥ ~~~, -- By post or by hand/ in person -- USA on Wednesday, July 02, 2014
Released 6 yrs ago (7/2/2014 UTC) at ~~~ ♥ ~~~ A Friend ~~~ ♥ ~~~, -- By post or by hand/ in person -- USA
CONTROLLED RELEASE NOTES:
If you have found this book, welcome to Bookcrossing and thank you for taking the time to let us know about its journey. Feel free to enjoy the book and pass it along to a friend, neighbor, family member or co-worker, or simply leave it somewhere for another lucky reader to enjoy as you did! This book isn't your type of read? No problem, don't feel obliged to read it, just be kind enough to help it on its journey.
Sending this book to Laurelar from the
Teens VBB
(US only). This VBB is open to new participants if you want to join send me a PM.
---
---