De tijgerkat
5 journalers for this copy...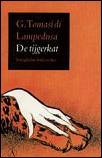 Sicilië. 1860. Garibaldi landt bij Marsala om het eiland in te lijven bij de nieuwe, liberale eenheidsstaat Italië. Het is gedaan met de Bourbons en met de feodaliteit: de platte, alles berekenende burgerij neemt de macht over. Don Fabrizio, prins van Salina, ziet deze ontwikkeling met lede ogen aan, maar voelt zich machteloos tegenover de geschiedenis en zoekt troost in zijn studie van sterren en planeten. Zijn pupil Tancredi echter weet zich aan te passen aan het nieuwe bestel. Hij sluit zich aan bij Garibaldi, trouwt met de dochter van een steenrijke dorpsburgemeester en zal hoge posities bekleden in de nieuwe staat.
De Tijgerkat is in Italie ondertussen 70 keer herdrukt en niet voor niets. Het is een boek dat zijn weerga niet kent, levendig en vol van Italië. Het is in 1963 verfilmd door Visconti en deze kennis leverde me bij een prijsvraag een extra exemplaar op van dit boek, dat anders nooit mijn boekenkast zou hebben verlaten.
Het is de enige volwaardige roman die Di Lampedusa ons heeft achtergelaten. Wie meer wil weten over hem en het weinige andere werk dat hij heeft geschreven kan dit lezen op mijn
website
.
---

Net hoorde ik iets in de brievenbus vallen, het klonk zwaarder dan een gewone brief. Dat klopte, het was dit boek. Hartelijk dank yvonnep, heel erg leuk en ik zal er van genieten!
---

Giuseppe Tomasi di Lampedusa – De tijgerkat (03-041)

Sicily 1860. Times are changing, in Italy as well. Though Italy, the country did not exist as a whole then. On the island the aristocracy is still very important, but for how much longer. In this epic novel one follows the path of Don Fabrizio, the last prince of Salina. His adopted cousin Tancredi adapts to the new life and marries the daughter of the rich mayor of the village. The novel describes 50 years, in fragments. That way some things become very clear, other things one has to read between the lines.

Tomasi himself was from Sicily. He was one of the last old fashioned aristocrats of the island. Certainly some parts of this book must be autobiographical. He was not a writer, this is the only story he ever told. But what a masterful one, if you write only one in your life. In Italy this book has had over 70 reprints. Need I say more? I was impressed, it is a beautiful portrait of a time. Added bonus to just reading a good book, to just reading a nice story.
---

Journal Entry
4
by
gerbie7
at
Via mail in N/A, Netherlands -- Controlled Releases on Tuesday, March 16, 2004
Released on
Tuesday, March 16, 2004
at
Via mail
in N/A, Netherlands Controlled Releases.
In de post naar de nieuwe lezeres: jgralike.
---
Gerbie7 schreef dat hij het boek met pijn in zijn hart liet gaan, dus ik heb beloofd het met gepaste aandacht te lezen en te zorgen dat ook de volgende lezer er met aandacht aan begint. Maar eerst: een korte pauze op mount tbr.
---
Vier jaar duurde die 'korte pauze op Mt. TBR'. Schandalig, steeds kwam ik het boek weer tegen en bedacht dan dat ik het binnenkort eens ging lezen. Nu leek het dan eindelijk zover te zijn. Maar helaas, ik krijg tegenwoordig de kriebels van allerlei soorten boeken, ook van dit boek. De beschrijvingen zijn bij tijden heel pakkend, tegelijkertijd heb ik er gewoon het geduld niet voor: ik wil veel te veel dingen tegelijk en kan me niet verdiepen in politieke plannenmakerij en dergelijke, die zich dan ook nog eens 'heel lang geleden, in een land heel ver van hier', zoals in alle sprookjesboeken staat, zouden hebben afgespeeld.

Binnenkort kan het boek eindelijk verder reizen (nog even een extra stickertje erop) en vindt het hopelijk een volgende, erg enthousiaste, lezer.
---

Journal Entry
7
by

koekiebak

from
Tilburg
,
Noord-Brabant
Netherlands on Saturday, March 22, 2008
Ik heb het boek van José gekregen op de knip- en plakavond deze week. Dank :)
---

Journal Entry
8
by

koekiebak

at
- Centrum in Tilburg, Noord-Brabant Netherlands on Saturday, June 07, 2008
Released 12 yrs ago (6/7/2008 UTC) at - Centrum in Tilburg, Noord-Brabant Netherlands
WILD RELEASE NOTES:
---

Journal Entry
9
by

AnonymousFinder

on Monday, June 09, 2008
Haven´t read it yet.
Found it in the train from Venlo to Den Haag.


CAUGHT IN VENLO LIMBURG NETHERLANDS
---