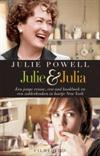 *** bookray *** Julie & Julia
5 journalers for this copy...
Julie Powells leven zit muurvast. Ze is bijna dertig, hopt van het ene oninteressante baantje naar het andere, ze woont - met een aardige, goedverdienende man, maar dat is nu even niet belangrijk - in een waardeloos appartementje en het enige dat ze kan denken is:
IS DIT HET NOU?

Dan bladert ze bij haar moeder thuis door hét standaardkookboek uit de jaren zestig: Mastering the Art of French Cooking van Julia Child. In een opwelling besluit ze in een jaar tijd álle recepten uit het boek te gaan koken en daar een weblog over bij te houden. Door de discipline die dit project met zich meebrengt, maar ook door de onverwachte wendingen die zoektochten naar een goede mergpijp met zich meebrengen, leert Powell niet alleen goed koken, maar krijgt ze ook haar joie de vivre terug.
Het blog bleek zo'n succes dat ze het bewerkt heeft tot een boek, dat verfilmd gaat worden met Meryl Streep als Julia Child.

---
Wat een heerlijk boek! Frustratie over niet-lukkende recepten, stress over deadlines, jacht op ingrediënten, veel te late etentjes ... erg herkenbaar.
---
Het boek wordt een ray. De lezers:

- Joanazinha
- Eline64
- LenaLena
- Leescat
- a3ana
- gibblets (oude bc-naam: xxxdaffie94xxx)
- jij?
---
Journal Entry
4
by

Joanazinha

at
Amersfoort, Utrecht Netherlands on Monday, April 02, 2012
Het boek zojuist overhandigd gekregen van Arja. Dank je wel! De film heb ik al eens gezien (erg leuk!), nu heel benieuwd naar het boek.
---
Journal Entry
5
by

Joanazinha

at
Amersfoort, Utrecht Netherlands on Monday, June 04, 2012
Het boek ligt al 2 maanden bij me en ik kom er maar niet aan toe. Jammer, maar gelukkig heb ik de film al gezien :-).
Ik stuur het boek ongelezen door naar Eline64 zodra ik haar adres heb.
---
Journal Entry
6
by

Joanazinha

at
A bookray, A Bookcrossing member -- Controlled Releases on Monday, June 11, 2012
Released 6 yrs ago (6/11/2012 UTC) at A bookray, A Bookcrossing member -- Controlled Releases
CONTROLLED RELEASE NOTES:
Onderweg naar Eline64.
---
Boek is in goede orde ontvangen. Joanzinha bedankt voor het opsturen en Arja bedankt voor het ringen. Ik ga er vandaag in beginnen.

edit: 17-7
Ik heb het boek tot halverwege gelezen maar het kan mij eerlijk gezegd niet boeien. Een beetje langdradig en weinig interessant helaas. In dit geval vond ik de film beter en amusanter.

Ik heb Lenalena een pm gestuurd voor haar adres. Arja in ieder geval bedankt dat je dit boek met ons wilde delen.


---
Gisteren binnengekregen, bedankt voor het opsturen! Ik kan wel wat luchtig leesvoer gebruiken met mijn arm in t gips :)
---
Wat een monsterproject! Ik ben al blij als ik uit al mijn kookboek meer dan 1 recept per boek heb gemaakt (of überhaupt 1).
Lekker om te lezen, ik wil de film ook nog steeds graag zien. Bedankt voor het ringen, Arja. Ik ga Leescat een pm sturen.
****
20-09: het boek is nog steeds bij mij, mijn ecxuses, ik kan niet op eigen gelegenheid naar het postkantoor gaan en toen ik er van het weekend was, kon het pakje ineens niet door de brievenbus (thuis wel), dus nam ik het weer mee terug. Dit weekend nieuwe poging!
---
Pfff, na veel gedoe en opnieuw in laten pakken door collega's is het boek dan eindelijk op weg naar Leescat! Excuses voor de vertraging, maar het boek reist nu weer verder.
---
Yeah, het boek is goed ontvangen. Het paste gelukkig door de brievenbus :) ik begin spoedig te lezen, jullie horen.
---