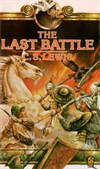 Chronicles of Narnia 7: The Last Battle
2 journalers for this copy...

I have owned these books since I was a child – they were probably my favourite stories of all time. These paperback editions are getting on a bit and are very well read, so I treated myself to some beautiful illustrated hardback editions.
Jill and Eustace return to Narnia to find the once beautiful country over run with soldiers. The Last Battle is approaching and they must help Aslan rally all that is good about the world so that they can follow him to a whole new paradise.
---
Journal Entry
2
by
dark-draco
at
Ledbury, Herefordshire United Kingdom on Wednesday, January 23, 2019

This was never my favourite of the Narnia novels, and my opinion hasn't changed that much now I'm re-reading as an adult. But it's not because this is in any way more deficient than the stories that have come before, but because it has always made me uncomfortable and sad that it's come to an end.
There is something quite disturbing about the Narnians being taken in by Shift and Puzzle to such an extent that they turn their back on their rightful King and allow themselves to be enslaved by the human invaders. The whole battle scene is quite dark, whereas previous ones barely deal with the blood and death side of fighting, it's all too clear here. Not that I don't mind that sort of thing, but in Narnia, it comes as a bit of a shock.
The last few chapters are very moving, although you have to ignore some of the more obvious preachy moments. But when I read this as a child I was blown away by how it all connected back to this world and our religions.
So overall, never going to be my favourite episode, but still a hugely important part of the Chronicles as a whole. Will always be one of my favourite all-time reads as a child and probably remain quite high on my adult reading list.
---
Journal Entry
3
by
dark-draco
at
Footpath from Evendine to Train Station in Colwall, Herefordshire United Kingdom on Thursday, July 18, 2019
Released 1 mo ago (7/17/2019 UTC) at Footpath from Evendine to Train Station in Colwall, Herefordshire United Kingdom
WILD RELEASE NOTES:
Congratulations! You have found a traveling book.

Thank you for taking the time to visit this site and letting us know what this book has been up to since it was released into the wild. I hope you enjoy reading it, but even if it isn't your type of thing, then I'm sure there will be someone out there who will love it. This book is now yours, so feel free to keep it. However, I would be grateful if you could leave all the stickers in place and pass it on again once you've finished with it – you could give it to a friend, donate it to a charity shop or just leave it lying around somewhere to be picked up again by a total stranger. If you would like to get regular updates on what the book is doing in the future, then why not join Bookcrossing too…it's fun, friendly and free.

Thanks again and happy reading!

---
Journal Entry
4
by
LadyontheGreen
at
Colwall, Worcestershire United Kingdom on Friday, July 19, 2019
I found this and thought I would read it as I don't remember reading it as a child. I look forward to passing it on.
---