The Day of the Triffids
Registered by

dark-draco

of
Ledbury
,
Herefordshire
United Kingdom on 6/9/2010
4 journalers for this copy...
Journal Entry
1
by

dark-draco

from
Ledbury
,
Herefordshire
United Kingdom on Wednesday, June 09, 2010
I have only recently discovered what a good author this is, even though my Dad has been recommending him for ages. This one I bought new as a treat!
---
Journal Entry
2
by

dark-draco

at
Ledbury, Herefordshire United Kingdom on Tuesday, September 11, 2018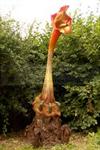 A classic in every sense of the word!
I'm a huge fan of end-of-the-world, dystopian fiction, but this one remains unique in that there is no huge event that kicks off events - rather everyone goes outside to watch the pretty lights in the sky ... and wakes up blind. Throw in some carnivorous, mobile plants and you have one hell of a situation. The few survivors that can see are left with an impossible choice - do they round up some of the sightless, look after them and try to help them survive, or do they strike out on their own to create a new future?
The author offers a lot of food for thought - the characters spend a lot of time musing over just this choice, and others like it, as they try and find somewhere they can live, thrive and keep out the increasingly intelligent Triffids. This means that the action is not non-stop, but the two sides are nicely balanced and evn non-sci-fi/horror fans should enjoy reading it, even if its just an exercise in 'what-would-I-do?'.
Yes, it is slightly dated now, although I love the fact that one of the characters lays into the women, trying to jolt them out of their old ways of thinking and making them take more responsibility for their own survival. I'm not sure that even back then, hot water and electricity would have failed quite so quickly, but at least it jumps the story quickly into survival mode. I'm also not sure about the suicides, although I think everyone has a fear of losing the ability to see and maybe Wyndham wasn't too far wrong after all.
A brilliant read - makes you think and keeps you entertained.
---
Journal Entry
3
by

dark-draco

at
BOOK ROUNDABOUT, -- By post or by hand/ in person -- United Kingdom on Saturday, December 29, 2018
Released 2 mos ago (12/27/2018 UTC) at BOOK ROUNDABOUT, -- By post or by hand/ in person -- United Kingdom
CONTROLLED RELEASE NOTES:
---

It's here! I don't know what's going on with Royal Mail, but it seems like everything is taking ages to get here or worse, is getting lost.
But this one has arrived safe and sound, despite the delay.
---

Too claustrophobic and daunting for me.
Will be sent to Fifna tomorrow.
---

It has arrived here. I've already read this one (more than once) and enjoyed it immensely! I'll send it on its way to Icila.
---

Icila and Lamilla have both asked to be skipped as they have both already read this book too. So it's now on its way to estelle1806.
---

Journal Entry
8
by

estelle1806
at
Clonsilla, Co. Dublin Ireland on Wednesday, February 20, 2019
Thanks for sending this book, Fifna, and for the tea bags, lovely!
---