Staying on
5 journalers for this copy...

Amazon Editorial Review
Instead of returning "home" when he retired, Tusker, once a Colonel in the British Army, and his wife Lily chose to remain in the small hill town of Pangkot with its eccentric inhabitants and archaic rituals left over from the days of the Empire.

This is a very reflective story which gives insight into the British lifestyle in India before and after independence.
---

Journal Entry
2
by
loveamystery
at
Vancouver, British Columbia Canada on Sunday, November 28, 2010
This book is now on its way to ApoloniaX who chose it out of my Two Worlds VBB. Enjoy!
---


Thanks a lot for this book, loveamystery! It's even a Booker Prize winner.
Looking forward to reading it.
---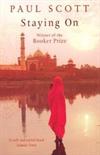 A very detailed, tragi-comic tale about an old British couple that's staying on in one of the so-called hill stations in India (Darjeeling? Kalimpong?). The two quite stubborn, eccentric characters are portrayed in a lovely way, how they try to arrange themselves with the new situation after the Raj and have to deal with class and loneliness - and their landlady...
---

Journal Entry
5
by

ApoloniaX

at
Surprise, A RABCK -- Controlled Releases on Thursday, March 10, 2011
Released 9 yrs ago (3/10/2011 UTC) at Surprise, A RABCK -- Controlled Releases
CONTROLLED RELEASE NOTES:
---

What a surprise! I'm not familiar with this but it sounds great, thanks so much for the RABCK!
---

This is heading to JudySlump612, who selected it from the General Literature VBB hosted by bookstogive. Sadly, I didn't get around to reading it first, but as I'm going to be moving out of state soon, I need to clear out some books. Thanks again for sending it, ApoloniaX; it really was very thoughtful!

Hope you enjoy it, JudySlump612! Weirdly, Minneapolis is where we will be relocating, so this book will precede me there!
---
Journal Entry
8
by
JudySlump612
at
Minneapolis, Minnesota USA on Wednesday, February 22, 2012
Arrived safely today. I'm very pleased to have it, since I admire the Raj Quartet so much. And thanks also for the Kiva bookmark.
---
Journal Entry
9
by
JudySlump612
at
Minneapolis, Minnesota USA on Sunday, April 15, 2012
This is in the "too good to wild release" category, so I'll be taking it to the Twin Cities meetup tomorrow. Ironically, Flewry plans to make her debut with us then. Perhaps she'll decide to give herself a second chance with this!

It's very much written in the style of the Raj Quartet, with the often warring expectations of the British and Indian characters, all lovingly drawn. This is by far a more gentle book, even with a fair amount of humor. It takes a good hard look at an English couple who have lived in India so long that the question of where "home" is becomes quite difficult. Their past dominion and comfort are matched with the image of a decaying hotel, being forced out of business by and literally in the shadow of a taller, more modern hotel. It's a very easy read, and not all that long. I'm hoping lots of other readers will have the chance to enjoy it as much as I did.

But that's just one person's opinion. Future readers, what do YOU think of this book?
---
Got this from slumpjudy612 while at Ginko's with the BXing meet. Sounds like a good book. Will add to my TBR pile which is growing faster than I can read them. LOL
---