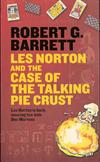 Les Norton and the Case of the Talking Pie Crust
Registered by
Tarna

of
Tampere
,
Pirkanmaa / Birkaland
Finland on 5/14/2010
2 journalers for this copy...
Journal Entry
1
by
Tarna

from
Tampere
,
Pirkanmaa / Birkaland
Finland on Friday, May 14, 2010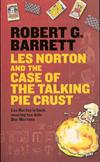 First published in Australia in 2007. This edition published in 2008 by HarperCollins
Publishers
Australia. Paperback, 292 pages.
From the Metso (Tampere main library) swap shelf.
The blurb:
LES IS QUITE HAPPY RESTING UP after the flu, when Warren has to tip him into an earn. Norton's mate from the Albanian Mafia, Bodene Menjou, is planning to make the most political correct movie ever made in Australia,
Gone With the Willy Willy
, and has a script stolen. If Les can find it, a lazy $50,000 could fall in. How can Norton say no?
After almost getting his head blown off in a drug lab, being attacked by crazed women with broomsticks, and beaten up by monstrous drag queens, Les is wondering if it is all worth it. The trip to Terrigal and the magical mystery tour with Marla is good. And Topaz with her chicken soup is an unexpected delight. But apart from that, Les doesn't find much joy at all in his search for the missing film script. Especially not trapped in a fight for his life with a sadistic giant, where only one thing can save him; the Mongolian Death Lock.
Set in Bondi and Terrigal, Robert G. Barrett's latest Les Norton adventure,
The Case of the Talking Pie Crrust
, is vintage Les Norton doing exactly what he does best: his worst. And proves once again, why Robert G. Barrett is, according to the
Australian
, the king of popular fiction.
'Barrett weaves cracking tale' Herald Sun
***
Picked this one up from the Metso (Tampere main library) swap shelf to be read. But now I think it's better to give Les Norton and the Talking Pie Crust (love the title, btw!) a chance to find a bit more enthusiastic reader.
The official Robert G. Barrett website
Robert G Barrett
at HarperCollins Australia site
Robert G. Barrett
at Australian Crime Fiction Database
Robert G Barrett
at Fantastic fiction
Robert G. Barrett
at Wikipedia
Les Norton
at Wikipedia
---
Journal Entry
2
by
Tarna

at
Finlaysonin alue in Tampere, Pirkanmaa / Birkaland Finland on Thursday, May 20, 2010
Released 9 yrs ago (5/21/2010 UTC) at Finlaysonin alue in Tampere, Pirkanmaa / Birkaland Finland
WILD RELEASE NOTES:
WILD RELEASE NOTES:
Vapautuu perjantaina 21.5. sosiaalifoorumille Työväenmuseo Werstaan ala-aulaan tai lauantaina 22.5. Mahdollisuuksien torille Väinö Linnan aukiolle. Niiden kulttuurinvaihtotorilla on
BookCrossing-pöytä
, josta itse kukin saa tulla hakemaan luettavaa.
Tervetuloa!
TO THE FINDER:

Thank you for catching this book and coming here to see its journal!
To me, it's important to be sure this book is in (your!) good hands. Please, let me know that you've found it. I'm also interested to know what you thought of it. That's why I ask you to re-visit the site and make another journal entry sharing your thoughts and maybe telling what kind of plans you have for it.
If you are new to BookCrossing, stay the site a bit longer and enjoy it. You're more than welcome to join the fun and become a member.


HAPPY READING!!!
LÖYTÄJÄLLE:

Kiitos, että nappasit tämän kirjan mukaasi ja tulit vielä vilkaisemaan sen matkapäiväkirjaa!
Tieto siitä, että kirja on hyvissä käsissä, on minulle tärkeä. Siksi pyydän sinua kertomaan, että se on sinulla. Toivon myös, että luettuasi kirjan poikkeat uudestaan täällä kirjoittamassa mietteitäsi lukemastasi. Sinun mielipiteesi kiinnostaa minua. :) Samalla voit myös kertoa mahdollisista jatkosuunnitelmistasi kirjan varalle.

Jos olet kiinnostunut BookCrossingista, mutta haluaisit tutustua siihen suomen kielellä, kurkkaapa näiden linkkien taakse:
* BookCrossingista suomeksi http://bookcrossingfinland.net/wiki/Etusivu
* Suomenkielinen keskustelufoorumi http://www.bookcrossing.com/forum/30
* BookCrossing suomenkielisessä Wikipediassa http://fi.wikipedia.org/wiki/Bookcrossing



LUKUILOA!!!
---
I visited nice bookcrossing event yesterday ja picked this book up. I haven't read Barrett's books before. According to the back cover this looks funny.
---