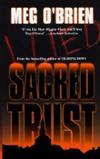 Sacred Trust
1 journaler for this copy...
Back cover

High on a hill overlooking the pristine town of Carmel, California, the body of world famous photojournalist Marti Bright is found one morning, crucified on a homemade wooden cross. For her best friend, Abby Northrup, it's just the beginning of a nightmare that she, too, may not escape from alive.

Compelled by grief and shock, Abby begins to piece together what happened to the woman she loved like a sister. With her marriage to an influential politician in tatters and her perfect life only a carefully fabricated illusion, Abby focuses instead on Marti, probing their past, the time the two friends spent in a convent and the secrets they'd kept all these years.

But as Abby reaches further and further into the maze of Marti's last days, she realizes the woman she thought she knew so well was keeping secrets from her. And that her own life is linked to her friend's in ways she never imagined... in ways that could make her a vengeful killer's next victim.
---
Journal Entry
2
by
RebeccaToh
at
Rawang, Sultanate of Selangor (Shah Alam) Malaysia on Friday, July 02, 2010
Surprisingly, I found it hard to put this book down. The whole mystery got my adrenaline pumping right from the first few pages. And with each leaf turned the mystery unfolds revealing puzzle pieces. I had a great time putting the puzzle pieces together before reaching the end where the whole picture reveals itself.

It may be a bit cliche, typical of any mystery thrillers but I still got absorbed into the story.

Not bad. Not bad at all. :)
---