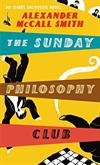 The Sunday Philosophy Club
Registered by

hippolein

of
Helsinki
,
Uusimaa / Nyland
Finland on 4/29/2010
3 journalers for this copy...

Journal Entry
1
by

hippolein

from
Helsinki
,
Uusimaa / Nyland
Finland on Thursday, April 29, 2010
Abacus paperback 2005
297 pages

Product Description
Amateur sleuth Isabel Dalhousie is a philosopher who also uses her training to solve unusual mysteries. Isabel is Editor of the Review of Applied Ethics - which addresses such questions as 'Truth telling in sexual relationships' - and she also hosts The Sunday Philosophy Club at her house in Edinburgh. Behind the city's Georgian facades its moral compasses are spinning with greed, dishonesty and murderous intent. Instinct tells Isabel that the young man who tumbled to his death in front of her eyes at a concert in the Usher Hall didn't fall. He was pushed. The Sunday Philosophy Club marks new territory - but familiar moral ground - from the author of The No. 1 Ladies' Detective Agency. With Isabel Dalhousie Alexander Mccall Smith introduces a new and pneumatic female sleuth to tackle murder, mayhem - and the mysteries of life. As her hero WH Auden maintained, classic detective fiction stems from a desire for an uncorrupted Eden which the detective, as an agent of God, can return to us. But then Isabel, being a philosopher, has a thing or two to say about God as well.
---

Going to the winner of the Finnish "Winner-Takes-It-All" (kirja-arvonta) from last January.
Sorry I'm so late in sending things out ...

Hope you'll like the book!
---
---
Unfortunately it looks like I'm never going to get around to reading this book. I really need to get a bunch of books out of the house (too many books, not enough bookshelves!), so it's time to let this one travel again. Let's see if I can find a reader for The Sunday Philosophy Club at our BC meet-up tonight...
---
Journal Entry
5
by
Hiirenkorva
at
Tampere, Pirkanmaa / Birkaland Finland on Monday, January 20, 2020
Miittinappaus. En ole aikaiseemin lukenut kirjailijan muuta tuotantoa kuin naisten etsivätoimisto sarjaa.
---
Journal Entry
6
by
Hiirenkorva
at
Tampere, Pirkanmaa / Birkaland Finland on Tuesday, March 30, 2021
Surkea pettymys naisten etsivätoimiston kirjottajalta. Tarina oli pitkäveteinen ja päähenkilöstä en pitänyt laisinkaan. En aio lukea sarjan muita kirjoja.
A huge dissapointment by the author of the no.1 ladies´detective agency. The story was boring and I didn´t like the main charachter at all. I´m not going to read any of the books of this series.
---