Irish Girls About Town
1 journaler for this copy...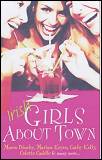 As the first book I register, I wanted to be something special.
This is a collection of short stories by some women writters of Ireland, including names I am familiar with, and others unknown to me (Marian Keyes, Joan O' Neill, Catherine Barry, Gemma O'Connor, Mary Ryan, Sarah Webb, Julie Parsons, Maeve Binchy, Martina Devlin, Annie Sparrow, Colette Caddle, Catherine Dunne, Marisa Mackle, Tina Reilly, Morag Prunty).
Even though not all stories are equally interesting, the book may serve as an introduction to these contemporary writers.
I especially enjoyed the story by Maeve Binchy ("Carissima" which is included in her book "Evening Class"), and have started do discover this light, but extremely good and engaging, storyteller from Ireland.
---