LEGO: A Love Story
Registered by
k00kaburra

of
San Jose
,
California
USA on 3/24/2010
4 journalers for this copy...

Journal Entry
1
by
k00kaburra

from
San Jose
,
California
USA on Wednesday, March 24, 2010
Rec'd via Amazon.com's Vine Program.
PAPERBACK ARC.

--

From the Inside Flap

The unofficial LEGO Museum lies hidden in Bellaire, Ohio, with millions of plastic bricks sculpted into everything from robotic bands to Dirk Nowitzki to a goat on a lifeguard tower. A secret set vault slumbers beneath a hidden panel in the original house of LEGO founder Ole Kirk Christiansen in Billund, Denmark. An eleven–foot LEGO replica of a speedboat teeters on a rickety wooden dock in Seattle, Washington, threatening to plunge and sink into the Pacific Ocean as five men struggle to keep it balanced. And in the Kansas City, Missouri, home of Jonathan Bender, a massive Star Wars LEGO set leans against the wall in a vacant room.

Jonathan comes face–to–face with all of these scenes as he explores the obsessive and diverse subculture of adult fans of LEGO (AFOLs), walking the line between art and commerce, play and Serious Play, and fantasy and real life, hoping to learn how the plastic brick of our childhoods inspires us as adults.

Awakened from the "Dark Ages"—that period of time when LEGO bricks are forgotten in a childhood closet—Bender rekindles his dream of becoming a master model builder, putting his skills to the test at adult fan conventions around the country. Here he meets fans who design their own sets, customize minifigures (LEGO people) to resemble superheroes and movie characters, and amass collections that number in the hundreds of thousands of bricks.

Bender also recruits his wife—the furniture builder in their household—to build alongside him, attempting to fill the child–size void in their lives. As their home slowly fills up with LEGO bricks, the spare bedroom swings between build room and potential nursery. Immersed in a toy–centric world without children, LEGO: A Love Story is ultimately about what it takes to build a family.

EGO: A Love Story explores what happens when the imagination of your childhood intersects with your life as an adult.

Jacket art by Nathan Sawaya, a New York–based artist who creates awe–inspiring works out of some of the most unlikely things. His work has been featured in collections across the country. His most recent North American museum tours feature large–scale sculptures using only LEGO bricks. Learn more at brickartist.com.
---

Journal Entry
2
by
k00kaburra

at
San Jose, California USA on Saturday, May 29, 2010
Started reading 2-3 days ago.
---

Journal Entry
3
by
k00kaburra

at
San Jose, California USA on Saturday, May 29, 2010
Finished today.

Review to come.
---

Journal Entry
4
by
k00kaburra

at
San Jose, California USA on Sunday, May 30, 2010
At some point in their childhood, every kid in the US of A plays with
LEGO bricks
. Right? My brother had a big old tub of LEGO toys that he kept under his bed, and we would build cities and spaceships and make up stories about pirates and knights and astronauts. It was friggin' AWESOME. Whenever I dreamed about my future dream house (the one I'd live in after I grew up), I
always
included a LEGO room, where I would be free to build to my heart's content. Then I got a little older and LEGO blocks were evicted from the house of the future in favor of an art studio, a walk-in closet and the expansion of the library. (The My Little Pony stable also failed to make the cut.) I had entered into the 'Dark Ages', the time when children put their LEGO bricks in the back of the closet and forget about them.
Jonathan Bender emerged from his own Dark Age the year he turned thirty. At first he was content to use the old bricks that had belonged to his brother-in-law, but soon he's buying bricks in bulk and picking out prepackaged sets for himself and his wife. In a quest to better understand the appeal of LEGO and the AFOL (Adult Fans of LEGO) subculture, Bender attends fan conventions and visits the Toy and Plastic Brick Museum, which houses the largest private collection of LEGO in the US. He visits LEGO's corporate headquarters in Denmark and goes behind-the-scenes at Legoland California. The fonder Bender grows of his new hobby, the more he longs for a child to share it with, and his difficulties he and his wife have getting pregnant are interwoven in the narrative.
If you ever played with LEGO bricks as a kid, you'll find something interesting in this book. Bender's enthusiasm for his subject radiates from every page, and his willingness to share both his triumphs (designing a zombie-slaying schoolbus for Brickcon 2008) and blunders (giving a craptacular gift at a LEGO
white elephant exchange
) provide very funny vignettes. But the book is extremely disorganized. A single chapter will jump from an interview with an AFOL to Bender's childhood to history of LEGO bricks. I found that if I read a chapter or two at a time, it was OK; but trying to read the entire book in an entire sitting was too much. It reads like a blog.
Bender's inclusion of his wife in his new hobby was sweet. Whenever he brought her up I'd think "Aaaw…isn't that cute." But the attempt to draw a parallel between his quest to rediscover LEGO and their difficulties conceiving were awkward and greatly added to the book's rambling lack of focus.
But hell. I thought it was fun. I want to go play with LEGO again. I wonder if my brother still has our bricks?
---

Journal Entry
5
by
k00kaburra

at
-- Bookbox, -- By post or by hand/ in person -- USA on Monday, April 02, 2012
Released 8 yrs ago (4/1/2012 UTC) at -- Bookbox, -- By post or by hand/ in person -- USA
CONTROLLED RELEASE NOTES:
adding to the "Biographies of Things" bookbox!
---
Journal Entry
6
by
elizardbreath
at
Pendleton, Oregon USA on Wednesday, April 18, 2012
I chose this out of the "Biographies of Things" bookbox. I miss my little brother!!
---
Journal Entry
7
by
elizardbreath
at
Pendleton, Oregon USA on Tuesday, April 24, 2012
I didn't get into this one as much as I thought I would, but I really did enjoy all the awesome photos and I loved reading about the birth of his daughter! :)
---
Journal Entry
8
by
elizardbreath
at
Bookbox in Bookbox, A Bookbox -- Controlled Releases on Tuesday, April 24, 2012
Released 8 yrs ago (4/24/2012 UTC) at Bookbox in Bookbox, A Bookbox -- Controlled Releases
WILD RELEASE NOTES:
Releasing back into MaryZee's Biography of Things bookbox.

To the finder of this book:

This book is gift, no strings attached, from me to you. You may keep it forever, pass it along to a friend, or release it into the wild to be found by someone else.

If you are new to BookCrossing, welcome! Enjoy the site, the book, and the BookCrossing community. I hope you'll join us...it's free! If you do, please consider using me, elizardbreath, as your referring member. You can even remain anonymous if you wish!

I hope you'll make a brief journal entry so all the previous and future readers can track this book's journey.

Thanks, and Happy BookCrossing! :)

---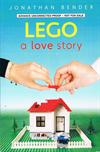 Taken from MaryZee's
Biographies of Things box
with thanks!
---

Some of the first photos I posted on Flickr were of a
Lego exhibit
, and someone I
met through origami
is an active adult fan..so I found this book quite an interesting little adventure.
Here's
my
most recent
Lego build
, aside from a
minifig
or two..
---

---

Oh yes I remember my Lego. My parents bought me a new little box of Lego on my first trip to China, in hope that would keep me a quiet, happy child throughout the travel. The nasty man at customs, however, decided that he needed to open up the box for inspection, and I was inconsolably in tears that some stranger had torn opened my new box of Lego so unceremoniously...

I admitted I was never very creative with my Lego bricks, maybe because my brother always damaged what I built with his Transformer. It is an eyeopener to see what people can do with these little blocks.
---

My first book to finish in 2015.

I thoroughly enjoy the book. Yes, it's at times rambling, but the passion of the author really shines through. He makes me feel like a kid again, gets me to remember the joy of playing, just playing with my toys, enjoying it and not feeling it a waste of time or worrying about the tasks I should be doing. He reminds me of the fun I had at (BookCrossing) conventions, where I enjoy great times with kindred spirits. The relationship with his wife is oh so sweet. All told, it's impossible not to love the book.

Reading the book makes me want to go to Legoland. And to visit a Lego store. Although i have to admit, last time I visited the Lego store in downtown Disney, I sat down in front of all the bricks and not sure what to build, uncertain what I can turn the little building blocks into.

I'm now passing this book on to a friend. He's not a BCer but I think he likes Lego. Hopefully the book will get journalled.
---