Animal's People
Registered by
Dancesports
of
Petcheys Bay
,
Tasmania
Australia on 2/13/2010

This Book is Currently in the Wild!
4 journalers for this copy...
Found at the Dymocks Sale

The Editors Note States:

"This story was recorded in Hindi on a series of tapes by a nineteen year old boy in the Indian city of Khaufpur. true to the agreement between the boy and the journalist who befriended him, the story is tole entirely in the boy's wors as recorded on the tapes. Apart from transalating to English, nothing has been changed. Difficult expressions which turne dout to be French are rendered in correct spelling for ease of comprehension. Places where a recording was stopped and later recommenced on the same tape are indicated by gaps. The recordings are of various lengths, and the tapes are presented in the ordering of numbering. Some tapes contain long sections in which there is no speech, only sounds such as bicylce bells, birds, snatches of music and in one case several minutes of sustained and inexplicable laughter"

Ever since he can remember, Animal has gone on all fours....
---
Journal Entry
2
by
Dancesports
at
Petcheys Bay, Tasmania Australia on Sunday, July 04, 2010
It did take me a little time to warm to this book but once I did then I found it quite a rivetting read. Another one that I find difficult to describe, at times there is a whimsical feel to it. The more I read the more the humour came through which is quite remarkable given the circumstances.
---

---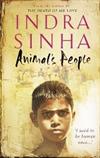 A novel about victims of the world's worst industrial catastrophe, who try to get some justice from the corrupt legal system, about "Animal", who got caught up in it as a baby and is fighting the health effects for the rest of his life. And he's doing this in a unbelievingly robust, fascinating way, egoistic, obstinate, intelligent, with a great sense of humour and rather dirty and amusing language and syntax. No self-pity for him.
Khaufpur is a fictional Bhopal, what else... But the novel isn't just about poisonous gas and disability and social justice, it's also about love and loyalty, hate and jealousy. A great book whose statements might hopefully help the victims of 1984 (at least against being forgotten).
---

Journal Entry
5
by

ApoloniaX

at
South Asian VBB, A Bookbox -- Controlled Releases on Saturday, January 15, 2011
Released 9 yrs ago (1/15/2011 UTC) at South Asian VBB, A Bookbox -- Controlled Releases
CONTROLLED RELEASE NOTES:
---

Journal Entry
6
by
Shroffland
at
Snellville, Georgia USA on Monday, January 24, 2011
Arrived swiftly and safely! I'm looking forward to reading this, and then sharing it with other BCers.
---

Journal Entry
7
by
Shroffland
at
Snellville, Georgia USA on Saturday, April 30, 2016
I do want to read this book, but am offering it in this round of bookstogive's General Lit VBB; I am motivated to read it right away!
---

Journal Entry
8
by
Shroffland
at
Snellville, Georgia USA on Friday, August 26, 2016
This novel is based on one of the worst global industrial accidents in history, as told by one of the survivors, Jaanwar ("Animal"), 20 years after That Night.
Through Jaanwar, we learn about despair, hope, delusion, joy, community, love, rage, and resilience, and humor.

On it's way to jlautner as part of the General Zliterature VBB.
---
Arrived sometime in the last few weeks, when I was out of town. Thank you!
---
It took me a little while to get completely into this but it was worth it. It is told by "Animal", a young man (not a boy at the time this is told, but a young man) whose body was deformed by a chemical leak from a large industrial plant in Khaufpur when he was very small, a baby. The deformity forces him to walk on all fours, and others took to calling him "Animal". A term he embraces from the start, even as he dreams of being able to walk upright some day.

Many years after the chemical disaster, as the poorest part of the country still struggles to cope with its aftermath (including the fact that the abandoned plant and grounds were never cleaned up), Animal begins to tell his story. He insists that the book contain only his transcribed words, and no interpretations by others (although spelling corrections are okay). Thus at the start we are treated to his odd way of speaking, given his limited education and influences by others of different dialects and languages. Over time, as he learns to read and write (helped by a friend), the language smooths out a bit but much of the sentence construction retains its unique character.

Enter Elli Barber, a doctor from the U.S., who wants to open a clinic and help those who have suffered from the disaster as well as other ills. The population is suspicious. After all, the chemical company ("kompani") was American. Is she a schill for the company? A populist leader by name of Zafar thinks so. Animal is not so sure, and is torn between his affection for Zafar and his interest in Elli.

We get to know Animal well and his friends somewhat well. Clearly Animal is smart and tough, as he has had to be to survive. He is also caring, but doesn't show this as often.

Through him we learn a lot about the disaster and what it has taken to try to bring the company to justice. Clearly the story parallels that of Bhopal, where Union Carbide had a plant that released at least 30 tons of toxic gas in 1984, killing thousands of people and animals and injuring many more. To date that plant has not been cleaned up and its effects continue to affect the population.

Animal is a character you are going to want to get to know. Tough and funny, wise beyond his years.
---
Reserved for bookstogive's general lit VBB.
---
Taken off bookstogive's list so I can release it elsewhere. I am sad that nobody had an interest in it.
---
Journal Entry
13
by
jlautner

at
Starbucks @ W. Warm Springs & Julia St. in Henderson, Nevada USA on Monday, June 11, 2018
Released 2 yrs ago (6/11/2018 UTC) at Starbucks @ W. Warm Springs & Julia St. in Henderson, Nevada USA
WILD RELEASE NOTES:
In the book box.
---