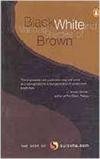 Black, white and various shades of brown: The best of Suleka.com
Registered by

J4Shaw

of
Boise
,
Idaho
USA on 2/5/2010
4 journalers for this copy...
Puchased the the Salvos store Cheltenham, VICTORIA, Australia

About Sulekha.com

Sulekha.com is the flagship service of Smart Information Worldwide, Inc., a leading Internet media and services company with operations in US and India. Sustained by the creative contributions of tens of thousands of Indians from over 50 countries, Sulekha has become the biggest online community for Indians, winning the unexampled loyalty of hundreds of thousands of visitors and acclaim from the media ("One of the finest Indian websites" - Times of India). In addition, Sulekha is also the dominant provider of classifieds, ticketing, membership and fundraising services to Indian organizations and is today the biggest online ticketer for Indian events and movies in North America. Penguin has recently published Sulekha's first print publication Black, White and Various Shades of Brown: Best of Sulekha.com. Web address: http://www.sulekha.com

---
Journal Entry
2
by

J4Shaw

at
Kaleen, Australian Capital Territory Australia on Saturday, October 30, 2010
Released 9 yrs ago (10/30/2010 UTC) at Kaleen, Australian Capital Territory Australia
CONTROLLED RELEASE NOTES:
Sending off to Shroffland for their choice in the Contemporary Asian lit VBB
Sorry it has taken so long to get this to you, I kept meaning to read it before sending, but never did, I've now given up trying to force myself into reading it, so it's off to you :)
---

Journal Entry
3
by
Shroffland
at
Snellville, Georgia USA on Monday, December 06, 2010
Thanks, J4Shaw! I'm looking forward to dipping into this intriguing volume.
---

Journal Entry
4
by
Shroffland
at
Snellville, Georgia USA on Monday, March 21, 2011
I am enjoying this collection of essays, poetry, and short fiction so much that I acquired a copy of my own. I am offering this copy in ApoloniaX's South Asian VBB.

I discovered that this anthology was originally published in the US as Sulekha Select: the Indian Experience in a Connected World, a title which more accurately describes the writings within ('sulekha' means 'good writing', or even 'well-written' in English). This edition, published in India, bears the title Black, White, and various shades of Brown: the Best of Sulekha.com. I am a bit put off with this title, perhaps because of the emphasis on color rather than on the writing, which reflects such a rich, multi-layered experience of Desis at home and abroad at the dawn of the 21st century. I hope that once readers open the cover and begin reading, they will be entertained and enlightened, as i was.

Thanks, J4Shaw, for sharing this book with me. I hope it will touch many more hearts in its ongoing journey.
---

Journal Entry
5
by
Shroffland
at
Snellville, Georgia USA on Tuesday, March 29, 2011
On its way to Annimanni in Finland as part of the S. Asian VBB. Enjoy!
---

---

Valitsit tämän Lyhykäiset-pussista. Hyviä lukuhetkiä, enjoy!
---
Got the book today in the meetup. Thank you also to the courier who brought the book to me.
---