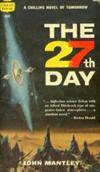 The 27th Day
Registered by

GoryDetails

of
Nashua
,
New Hampshire
USA on 1/20/2010

This Book is Currently in the Wild!
4 journalers for this copy...

Journal Entry
1
by

GoryDetails

from
Nashua
,
New Hampshire
USA on Wednesday, January 20, 2010
Many, many years ago, I saw the film
The 27th Day
, and found it wonderfully entertaining and moving. [Among the cast was Gene Barry, who passed away in December of 2009.] Well, the
Got Books
people have opened another Used Book Superstore in my city, and when I stopped by today to check it out I spotted this rather battered 1956 ex-library hardcover (different cover than shown) of the novel on which the film was based!
Later: I thoroughly enjoyed this book, and I think I would have even if I hadn't seen the film - though that's hard to prove at this date. [I should add that I had a powerful crush on the young Russian soldier in the film, so that didn't hurt my opinion of film OR book!] The story was so close to the film that I can't help wondering if it was written specifically as a film-treatment; it was published before the film came out, but only by a year. There are some minor changes here and there, and the book does fill in some background that the movie glossed over, but otherwise they're very close indeed.
The basic story: five people from (as we are informed later) "among the leading nations" - the US, the UK, China, the USSR (this was written in the middle of the Cold War), and Germany - are simultaneously greeted by aliens and whisked aboard a spaceship, where they are each given a box containing three capsules, each of which is capable of eliminating all human life within a 3,000-mile diameter area. The alien explains that his world is dying and his people need a new home, but their ethic does not allow them to simply take over - so, since they've observed how warlike earthlings are already, they're offering the humans the power to destroy themselves, leaving everything else intact. The capsules will remain active for 27 Earth days; if they have not been used by then, or if less than two-thirds of the population has been destroyed, the aliens will leave, doomed.
Well, the humans aren't keen on destroying themselves, no matter how benevolent and wise the aliens seem to be, and they make a pact not to use their capsules at all. But of course the aliens have a trick or two up their sleeve-equivalents, and our heroes soon wind up on the run...
There's a naivete to the story that I rather like, though it might seem overly simplistic to some. The writing's very lively, with some amusing dialog, such as this bit from the alien: "Only the eldest of our race are truly skilled in what you earthlings might call metamorphosis, and the clumsy attempts of my young associates to contact you in human form must, in some instances, have been quite terrifying. The young lady, I believe, found herself confronted by a being about eleven feet tall with green hair and a third eye which, if I am correctly informed, kept drifting around at will."
And there's a bit of a deus ex machina near the end (OK, a
huge
one!), though the author did play fair with hints and clues. But I thoroughly enjoyed the story, loved all the characters - even the villains were nicely scenery-chewing - and got sniffly here and there as well. (One can certainly debate the morality of the ending, but that's part of the story's charm.) I recommend the book and the film, which are among the more thought-provoking (and potentially hopeful) SF stories of the '50s.
An interesting companion piece to the film would be
The Day the Earth Stood Still
- the 1951 version, I haven't seen the remake; it has some common thematic elements with
The 27th Day
, but from a different perspective.
[There's a short
TV Tropes page
on the film and book.]
---

Journal Entry
2
by

GoryDetails

from
Nashua
,
New Hampshire
USA on Monday, January 25, 2010
I thought I'd offer this book for a book ray, as it's one that I've enjoyed and it doesn't seem to be that well-known (and only three copies registered that I could find); see the forum post
here
.
The book is a somewhat-battered ex-library hardcover weighing about 14 ounces. I'll accommodate domestic-only (and other) mailing preferences as best I can; if I get enough participants who are willing to handle the necessary postage/customs-forms requirements, I'll make it an international ray. Please post a reply in the forum thread or PM me if you'd like to participate, and include any mailing restrictions you may have.
Bookray instructions:
When you receive the book, please journal it, and PM the next person in line for their address so you'll have it ready when you've finished the book.
Note: even if you've sent books to that person before, please PM them before mailing this one, to confirm that the address is correct and that they're able to take on a book ray at this time.
Try and read the book promptly - ideally, within a month of receiving it. If you expect to take longer, you can request to be put at the end of the list. If you find you're swamped with other books when the person before you contacts you about the bookring, you can ask to be skipped, and then let me know whether you'd like to be moved down the list or dropped entirely. If you receive the book and find it's taking longer than you'd planned to get through it, I'd appreciate an update in its journal entries or on your profile, just to let me and the other participants know you haven't forgotten it.
When you're ready to pass the book along, please add your comments about the book and indicate where you're sending it, either through a journal entry or through the controlled-release-note option. [If you make controlled release notes with your country/state/city as the location, the book will have a lovely map of its travels by the time it gets home.]
If you find that you're having problems contacting the next person in line, or don't think you can manage to mail the book as originally agreed, please let me know; I'll be glad to try to work something out!
Participants, in mailing order:
marko167
[Spain]
hyphen8
[HI - USA]
Megi53
[VA - USA]
---

Journal Entry
3
by

GoryDetails

at
Nashua, New Hampshire USA on Sunday, January 31, 2010
CONTROLLED RELEASE NOTES:
I'm sending this book to BCer marko167 in Spain, to kick off the bookray. Hope you enjoy it!
*** Released as part of Jare's
2010 Chills & Spills Release Challenge
; the theme for January is the end of the world, and this book definitely deals with that! [Whether or not the world does end is something I'll leave for the reader to discover.] ***
---
Arrived over the weekend. I am in the middle of a rather good John Connolly book at the moment but will move onto this shortly.

Thanks for sharing.

M.
---
An enjoyable sci-fi yarn with a definite 50s feel. In some ways quite dated, but none the less a good read, will be on the look out for the film.
---
Journal Entry
6
by
marko167
at
Book Ring, A Bookring -- Controlled Releases on Wednesday, March 10, 2010
Released 10 yrs ago (3/10/2010 UTC) at Book Ring, A Bookring -- Controlled Releases
CONTROLLED RELEASE NOTES:
CONTROLLED RELEASE NOTES:

Booked this one Danno. Off it flies to the land of Da da da da daaaa da da da da da da.
---


Wow, how did that happen? I got two separate bookrays from Spain at once, in the same package!
I'm in the middle of reading a ring book right now, but once I finish that one I'll start on one of the two I got today. I normally try to read them in the order received, but since these arrived together I might have to flip a coin!
Interesting: the actual cover looks like a cropped version of the one shown above - just the text, without the background painting, but with the same distinctive coloration for the "27".
---

Thank you GoryDetails for sending out this book - I love this type of story, and this one was no exception. This a terrific example of the SF of the period. I can't imagine it being written now, but I wouldn't change it either.

I agree with you about the deus ex machina, and the clues..the result made me wonder how some of Heinlein's characters would've reacted!

I was rooting for Ivan too; I'll keep an eye out for the movie. Do they have the alien with the drifting third eye? ;)

I'll get this off to Megi53 soon.
---

Will be mailed to the next person on the list tomorrow via media mail - so it will probably take about 3 weeks to get there.

This book was set free to find a new reader; I'm so glad you've found it!

If you're new to Bookcrossing, I hope you will take some time to explore this wonderful free and anonymous community and learn about what it has to offer.

Free your books - help spread the words!
---

Twixxy came home from her Hawaiian honeymoon today, just a few hours before this book arrived from Honolulu in the mail. Should've had her pick it up and bring it on the plane;-)

Seriously, this looks like it's going to be a riveting story.

I admire the artistic quality of these 1950's books that have a moody black-and-white photo of the author on the back. (Mascis and I are collecting Delacorte's Vonnegut books of that type.)

I see from the blurb under the photo that Mantley is Mary Pickford's cousin, a pilot with the R.C.A.F., a playwright -- and from the few opening paragraphs I've already perused, I judge he's very accomplished with words.
---

This was vastly entertaining, and I'm happy to know there's a film so I can obtain it someday and relive my favorite moments (the beach scenes, Gregor and Tanya plotting their escape, the time Professor Bochner took a hot bath and fell asleep ...)

It wasn't perfect: Jonathan made for a wooden hero (and did he really write his memoir in all caps with multiple exclamation points? Heheh), too much page space was devoted to lighting and stamping out cigarettes (ah, the fifties), and Mantley would come up with a striking phrase (such as "worst fears realized", "he snapped curtly", or "Eve gasped in horror") and then use it twice in the same chapter.

I especially liked the characters who were scientists and doctors; and the "heat-seeking" capsule idea struck me as quite original (if there are more stories out there with a similar plot, somebody please tell me!). Edit: The Day the Earth Stood Still -- noted in the first j/e: must keep a lookout for that one.

As in much older science fiction, it was great fun to see which of the author's wild imaginings had come true (knowing the sex of one's baby before birth) and which were incongruous (national boundaries to separate races and cultures).

Since October is nearly here, I'm returning this to the wild for Jare's Chills & Spills challenge. One of Twixxy's friends set up a letterbox in downtown Danville, and that will be the place, if I can figure it out.
---

Journal Entry
12
by
Megi53
at
Old 97 Letterbox in Danville, Virginia USA on Saturday, October 02, 2010
Released 10 yrs ago (10/2/2010 UTC) at Old 97 Letterbox in Danville, Virginia USA
WILD RELEASE NOTES:
http://www.letterboxing.org/BoxView.php?boxnum=20649&boxname=The_Old_97
---