Note: Book successfully released. Release Another book to this location!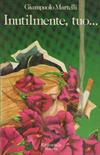 Inutilmente, tuo..
Registered by
gothicrise
of
Livorno
,
Toscana
Italy on 1/11/2010

This Book is Currently in the Wild!
1 journaler for this copy...
La morte enigmatica di un giovane architetto che aveva creduto miticamente nell'Utopia rivoluzionaria, è l'atto improvviso e traumatico che porta il protagonista della vicenda a interrogarsi su se stesso e il proprio destino. All'inizio quasi identificandosi con <> , ma ritrovando via via un ruolo autonomo e liberandosi così da tutti i fantasmi del passato. Un itinerario interiore che s'allarga fino a diventare l'impietoso esame di coscienza - a più voci- della generazione orfana dell'ideologia.
---
Journal Entry
2
by
gothicrise
at
Villa Maria in Livorno, Toscana Italy on Monday, July 26, 2010
Liberato per il celiRABCK di MartinaViola !!

Benvenuto!
Hai appena trovato un libro liberato da me e sono felice che tu ti sia incuriosito/a al punto di provare a sbirciare qui dentro!
Il Bookcrossing consiste nella liberazione di libri, allo scopo di poterne seguire il viaggio attraverso i commenti di coloro che li ritrovano. Coloro che vi partecipano, lo fanno gratuitamente e senza scopo di lucro, con il solo fine di diffondere il piacere della lettura. Il Bookcrossing è nato negli USA nel 2001, ed è attivo in Italia dal 2002. Il sito sul quale ci troviamo ora, è il sito principale che è, appunto, in lingua inglese. Esistono dei supporti internazionali, tra cui quello Italiano (QUI).

Puoi segnalare il ritrovamento di questo libro in maniera anonima (Anonymous Finder) oppure registrarti sul sito. E' gratis e non comporta alcun vincolo!

Ti chiedo solo una cosa: dopo aver letto il libro, che tu intenda registrarlo o meno, non tenerlo in casa a prendere la polvere, ma rilascialo a tua volta affinché possa continuare il suo viaggio e altre persone possano leggerlo!
Se ti registrerai, ogni volta che qualcuno inserirà una nuova Journal Entry nella pagina di questo libro verrai avvertito tramite e-mail e potrai così seguire il suo viaggio dopo che lo avrai rilasciato a tua volta.
E' tutto: buona lettura!
---