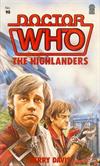 Doctor Who: The Highlanders
2 journalers for this copy...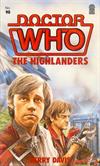 From the back cover:
"History books don't always tell the whole story. Certainly there is no record of an episode that occurred when the Scots, led by Bonnie Prince Charlie, were defeated by the English at the Battle of Culloden in 1746...
And the presence at the time of a blue police box on the Scottish moors seems to have escaped the notice of most eye-witnesses...
THE HIGHLANDERS sets the record straight. And while the incidents described may not be of great interest to historians, for Jamie McCrimmon they mark the beginning of a series of extraordinary adventures."
This was the only artwork ever used to cover The Highlanders, and a splendid piece by Nick Spender it is too! The mist rolling down from the hills is very effective and it is a superb likeness of a young Frazer Hines as Jamie McCrimmon.
---

Welcome to BookCrossing!

Thanks for checking the site out. I hope you enjoy both the book and the site. People all over the world are tracking their books through BookCrossing. While you're here, I'd really appreciate it if you'd make a journal entry for this book so I know that it's safe. You may choose to remain anonymous or to join (it's free).

If you do decide to become a BookCrosser please consider using me, Davros-10, as the member who referred you. If you are already familiar with BookCrossing, thanks for picking up the book, I hope it is one you were looking for!

Please feel free to keep this book for as long as you wish, and whenever you're ready pass it on to a friend, or leave it "in the wild" for someone else to find. Then watch its journey - you'll be alerted by email each time someone makes a new journal entry. It's all confidential, free and fun (and addictive - but in a GOOD way)!

Mailed to juli2007 with a pile of other Doctor Who books. Not an 8th Doctor adventure, but I think you'll enjoy it.

Released for the 2013 Never Judge A Book By Its Cover Release Challenge: Week 24 (Flags).
---

Thank you for sending me these great dr who books, love them!
---