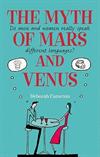 The Myth of Mars and Venus: Do Men and Women Really Speak Different Languages?
4 journalers for this copy...
We all know the commonly-held beliefs about communication between the sexes. And the result? An unavoidable catalogue of misunderstanding.

With wry humour and intellectual rigor, Deborah Cameron questions how well these 'facts' stack up against the evidence, and demonstrates why it matters.
I will fill in my thoughts later, after I've checked whether someone else is interested in this book.
---

Couldn't resist taking this home from the meetup tonight. I read an older book by Cameron when I did gender studies and found it extremely interesting. Let's see how this compares!
---

I enjoyed this a lot, although a lot of the subject matter I was familiar with already, having done gender studies at the uni.

One of the most eye-opening chapters to me was the one about the myth of male-female misunderstanding and particularly the section about 'just say no' in rape situations.

Being a mother to a 2.5-year old boy, I pay even more attention than before to how I speak about gender and gender roles, and that's probably why I also found the chapters about brains, genes and evolution and gender, identity and style particularly interesting.

---

Next off to KiwiinEngland as part of Vekiki's Nonfiction VBB. Enjoy!
---

Journal Entry
5
by

kiwiinengland
at
Dublin, Co. Dublin Ireland on Tuesday, November 29, 2011
Thank you very much, safely arrived in Dublin.
---

Journal Entry
6
by

kiwiinengland
at
Dublin, Co. Dublin Ireland on Sunday, October 20, 2019
This book travelled with me when I moved back to New Zealand in 2012, and I just can't seem to pick it up at the right time to want to read it.

So, I'm going to send it out into the world again.
---

Journal Entry
7
by

kiwiinengland
at
2019 Bookcrossing unConvention in Norfolk Island, New South Wales Australia on Sunday, October 20, 2019
Released 4 wks ago (10/21/2019 UTC) at 2019 Bookcrossing unConvention in Norfolk Island, New South Wales Australia
WILD RELEASE NOTES:
Taken to a meal held at Aloha Apartments, in Burnt Pine.
If you aren't familiar with Bookcrossing, take a few minutes to check out this very cool site. Bookcrossers LOVE books, and more than anything, they love to read books and then set them free for other people to find and enjoy. I would love it if you would leave a journal entry -- you can say where you found the book or how you liked it when you read it.
---

Journal Entry
8
by

goldenwattle

at
Norfolk Island, New South Wales Australia on Thursday, October 24, 2019
Picked up at the Bookcrossing event. Thank you.
---

Journal Entry
9
by

goldenwattle

at
Canberra, Australian Capital Territory Australia on Friday, November 01, 2019
An interesting read, but rather on the light side. There were lots of references given, but it would be hard and very time consuming to actually track down all the references that were given to check them. I could suggest some internet links to references, except that many research papers are blocked beyond a short section, unless one pays to read the rest. Maybe more could have been quoted from the references though.
This is a timely book though to counter all the myths that Mars and Venus type books put out. One of my pet grievances, is that women can't read maps. Really! I am female and never found this a problem, and I am not unique. I remember one of these books had a survey that was meant to show how females and males viewed some things differently and would give different answers. The survey started with, if you are female, add this much to your score (I can't remember the exact amount but it was sizable). Naturally that guaranteed I would get a different score to males answering the same questions. Funny thing was that when I removed the extra score I had to add for being female (and the males didn't add), I got the same score as the males. Who would have figured that!!!
---