Mansfield Park (Penguin English Library)
5 journalers for this copy...
From Amazon:
The Mansfield Park of the title, a magnificent, idyllic estate which is home to the wealthy Bertram family, stands as a bastion of English tradition and stability. The novel's heroine, Fanny Price, is a "poor relation" living with the Bertrams, acutely conscious of her inferior status and yet daring to love their son Edmund--but from afar. However, with five marriageable young people on the premises, the peace at Mansfield cannot last. Courtships, entertainments and intrigues throw the place into turmoil, and Fanny finds herself unwillingly competing with a dazzlingly witty and lovely rival. As critic Margaret Drabble has pointed out, the house becomes "full of the energies of discord--sibling rivalry, greed, ambition, illicit sexual passion, and vanity," and the novel becomes ever more engrossing as it builds to Mansfield's final scandal and, finally, a satisfying conclusion. Unique in its moral design and brilliant interplay of the forces of tradition and change, Mansfield Park was the first novel of Jane Austen's maturity, and the first in which the author turned her unerring eye on the concerns of English society at a time of great upheaval.

The participants of this bookring are:
psychjo, UK
Talkland, UK
nikel27, Germany
Wakira, Spain ***
Tamster33, California
caligula03, California
cyber-librarian, Illinois
CaptMom, Florida
kalipriestess, Florida
Sossap, Portugal
Xanocas, Portugal
letra, Portugal
oceanss, Iran
Caracas, Germany
MaiSpritt, Denmark
Clawdia, Spain
arugh48187, Minnesota
bookaddict22, Missouri
Ilios, Florida
vicki9170, Florida
spaceystacey, New Jersey
and back to Antof9

1. Please make a journal entry showing that you have
received the book as soon as you get it.

2. When you receive the book, please also PM the
next person in line to get his or her mailing address.

3. Make a journal entry letting us know what you
think of the book including a favorite quote if
you like. Journal when you are sending the book
to the next BookCrosser.

4. Mail the book to the next person on the list.

Happy reading everyone!
---
I'll mail the book to psychjo from somewhere in England or Wales some time within the next week.
---
This arrived yesterday from Tutmarie, thanks. I have started to read already, and will send on to Talkland as soon as I can. It's quite a long book, so will do my best!
---
Finished reading this over the weekend. My first Jane Austen and I thoroughly enjoyed it. I found it took a while to get into the style of her language, and then the middle dragged a little. but I whizzed through the last third, desparate to find out how it was all going to work out.

A word of caution - I didn't know the story at all, and regretted reading the introduction as it had lots of plot spoilers in it, and I don't think it really helped me to enjoy or understand the book any more.....so you may prefer to read it at the end (or not at all).

Oops have sealed the book in an envelope and forgot to note my favourite quote.....probably something from the horrendous Mrs Norris!

Sending it on to Talkland today.

---
Thank you Psychjo for sending to book on to me. I have been a little slow in writing the journal entry saying that I have received it. Sorry everyone!

Off topic but relevant; I have been mentally put an 'O' where it shouldn't have been Jo and I have only realised today I have been reading your name wrong. I had this vision of you being a bit bonkers but it looks like I might be the mad one not you!!!
---
If you have not read the book before, a word of warning — don't read the introduction. As a previous journaller pointed out it contains plot spoilers. This version of Jane Austen's Mansfield Park has kept much of the spelling and grammar of her time. The rhythm and construction of dialogue is different to modern novels. It is fascinating remainder that language is always evolving.

I had forgotten this novel. I read it years ago at school. It is a most excellent book and though some people think Fanny Price is insipid and a prig, I rather like her. She has strong convictions and moral centre. She is an introvert and is afraid of people. Fanny is a gentle soul surrounded by selfish family and amoral friends. Most of the characters in the book flow free in water of life and washing up where they least expect it and certain not where they want to be. Fanny lets life flow over her while all the time being anchored firmly by her morals and insight.

This is a book about marriage, the Good (Fanny's), the Bad (Julia's) and the Ugly (Maria's). Maria marries for money and position. Julia marries in haste being swept along by events. Fanny marries for love, staying firm and true. It is also a novel about change. Fanny's life is changed by circumstances beyond her control. In the other characters' lives it is due mainly to their own actions and their desire for change. It also shows that some events, though at the time may seem trivial and not of much importance, are the pivot or the spark that cause the direction of life to change irrevocably. The arrival of Mr Yates and the members of house catching the acting bug is one such moment.

The one thing I think many critics forget about this book is how young some of the characters are. Fanny is only eighteen and the oldest of the younger players is only in their mid twenties. I know some might say, "Well, they grew up fast in those days." In some ways they probably did and in the lower classes they definitely did. The Bertrams and the Crawfords are near the top of society. Their lives are cushioned to a vast degree compared to most who lived at that time. I think, the girls and woman of this time and in the more elevated positions of society were protected, not only from physical love but emotional love too. There was much emphasis on a woman's purity and innocence. These are her most prized assets. Virginity and reputation are easily lost and can never be replaced. Fanny's reputation is pure and therefore her worth high. Julia's reputation is slightly tarnished but Maria's has been destroyed. Maria's worth at the beginning of the novel is the highest but by the end hers is lowest.

This novel shows Jane Austen's genius as a writer and commentator on life. Her observations and insight are spot on. Her work is a joy to read. I would recommend everyone to at least read one of her books. She is truly one of the greats of English Literature.


---
Journal Entry
7
by
talkland
at
== by post or by hand == in Eastbourne, East Sussex United Kingdom on Sunday, August 03, 2003
Released on
Monday, August 04, 2003
~
Postal Release
in Eastbourne, East Sussex, United Kingdom.
This masterpiece is on its way to Germany and Nikel27.
---

arrived yesterday, will start reading soon....

update 08/25/2003:

Jane Austen is one off my absolute favourite authors and love all her books. This one I haven't read so often then the other books from her.

I loved the story. and look forward to reread some more books from Jane Austen.
thanks for letting me join this BookRay.

As soon as I get the address from the next member the books will go to the postoffice. Hopefully before I wil go on vacation.
---

Journal Entry
9
by
nikel27
at
Postal System (Ginsheim-Gustavsburg) in -- Per Post/Persönliche Weitergabe--, Hessen Germany on Thursday, October 02, 2003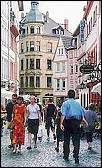 Release planned for
Tuesday, October 07, 2003
at
Postal System
in Ginsheim, Hessen Germany.
goes to the next member wakira/Spain
EnJOy !!
---
I´ve just received the book and I´m sooo happy. I´ll read it assap.
---
Unfortunately, it seems that this book has been lost somewhere, but the wonderfully generous BC'er Antof9 has offered to unstall the bookray by sending out her copy of Mansfield Park to the next one on the list. The ray will be turned into a ring so that the book can eventually return to Antof9.
Here's the link to the book:
Mansfield Park
---