Häivähdys purppuraa [Tuunattu]
2 journalers for this copy...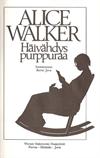 Englanninkielinen alkuteos
The Color Purple
(1982). Suomentanut Kersti Juva. WSOY, Porvoo 1986. Sidottu, 361 sivua.
Ns. suklaarasia eli suojakanneton ja kansikuvaton kirja SPR:n Tampurin euron pinosta tuunattavaksi. Kuvassa kirjan nimiölehti.
Häivähdys purppuraa
on yksi niitä kirjoja, jotka ostin äidilleni (silloin kun hänelle vielä sai antaa kirjoja) sen ilmestyttä. Luin sen sitten tietysti itsekin, ja kumpikin meistä piti siitä. Taisi pitää Steven Spielbergkin, tekihän hän siitä samannimisen elokuvan.
Alice Walker
(artikkelintynkä Wikipediassa)
The official website for
Alice Walker
Alice Walker
at New Georgia Encyclopedia
Alice Walker
at About.com: Women's History
Alice Walker
at Wikipedia
Anniina's Alice Walker Page
---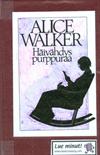 Nimilehteä hyödynsin ja vaivatta tunasin. Kannessa on nimenmukaisesti vähintään häivähdys purppuraa.
---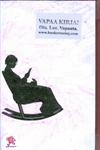 Laiskuus jatkuu; sama teema ja nimilehti käytössä takakannessakin. Ja siinäkin muiden muassa purppuraa. Häivähdys, sano.
---

Journal Entry
4
by
Tarna
at
Sorsapuisto in Tampere, Pirkanmaa / Birkaland Finland on Wednesday, June 20, 2012
Released 8 yrs ago (6/20/2012 UTC) at Sorsapuisto in Tampere, Pirkanmaa / Birkaland Finland
WILD RELEASE NOTES:

Toivottavasti Richard Rautalinin
Tanssiva tyttö
ei sentään polje
Häivähdystä purppuraa
jalkoihinsa.

LÖYTÄJÄLLE:

Kiitos, että nappasit tämän kirjan mukaasi ja tulit vielä vilkaisemaan sen matkapäiväkirjaa!
Tieto siitä, että kirja on hyvissä käsissä, on minulle tärkeä. Siksi pyydän sinua kertomaan, että se on sinulla. Toivon myös, että luettuasi kirjan poikkeat uudestaan täällä kirjoittamassa mietteitäsi lukemastasi. Sinun mielipiteesi kiinnostaa minua. :) Samalla voit myös kertoa mahdollisista jatkosuunnitelmistasi kirjan varalle.

Jos olet kiinnostunut BookCrossingista, mutta haluaisit tutustua siihen suomen kielellä, kurkkaapa näiden linkkien taakse:
* BookCrossingista suomeksi http://bookcrossingfinland.net/wiki/Etusivu
* Suomenkielinen keskustelufoorumi http://www.bookcrossing.com/forum/30
* BookCrossing suomenkielisessä Wikipediassa http://fi.wikipedia.org/wiki/Bookcrossing



LUKUILOA!!!



---

Journal Entry
5
by

AnonymousFinder

at
Tampere, Pirkanmaa / Birkaland Finland on Saturday, February 11, 2017
Löysin kirjan Tampereen yliopiston lääketieteen laitoksen kirjahyllystä. En ole vielä saanut aloitettua lukukokemusta mutta tarkoitus on aloittaa. Palaan sitten asiaan arvioinnin merkeissä. Sellainen hauska sattuma että kyseinen kirja on ollut mun "täytyy lukea tulevaisuudessa"-listalla.
---