Ella Enchanted (Trophy Newbery)
4 journalers for this copy...
Newbery Honor book from 1998. My contribution to round 6 of spacedog's Newbery Medalist and Honor Bookring.

Here is the order:
elissamay
hyphen8
spacedog
---
Thanks! This leg of spacedog's Newbery bookring got to me safe and sound this morning.
---
CONTROLLED RELEASE NOTES:

Great fun! Mailed to hyphen8 for spacedog's Newbery book ring. Happy travels!
---

Arrived today along with a beautiful bookmark. Thank you!

I'll try to read this and get it moving again soon.
---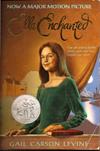 You know, I thought I'd read this before, but it's amazing how many of the details I'd forgotten. Thanks for the chance to read it again; I can't imagine anyone really thinking that a "gift" of obedience would be a
blessing
.
I'll be sending this along soon with a new bookmark. :)
Other copies on my BookCrossing shelf:
10040908
•
13782407
---

CONTROLLED RELEASE NOTES:
Sending this to the next person in the ring via media mail; based on past experience, estimated transit time is 3 weeks.
Released as part of DragonGoddess's
What's in a Name
release challenge.
---
got a few weeks ago. backlogged w/ books at the moment, but will hopefully get to it after the holidays!
---
even though i have a stack of other books i should be reading i wanted a quick, light read. finished this yesterday. some interesting parts, but shallow characterization and situations and more than a few unlikely situations prevented me from fully enjoying this retelling of the cinderella story. it was nice to breeze through a quick newbery honor book for once though!
---
Arrived home safely on Friday. Thanks for seeing the book along on its journey everyone.
---