To Kill a Mockingbird
4 journalers for this copy...

thrift store find -- extra copy -- up for trade
```````````````````````````````````````
6-13-03 Sending to Livelywriter for her bookray in honor of the late Gregory Peck.
---

Journal Entry
2
by
Betsy-STL
at
Postal Release in -- Mailed, -- By post or by hand/ in person -- USA on Friday, June 13, 2003
Released on
Friday, June 13, 2003
at
Postal Release
in USPS, postal release USA.
Releasing via mail to Livelywriter. Enjoy!
---
Back when I rolled my eyes at being assigned books to read in high school, this was on the list. Mockingbird turned out to be one of the books I most enjoyed reading then, so much that in college when I studied to be a teacher I would create lessons on teaching the book.

This copy of Mockingbird is going out as a memorial bookray tribute to the late Gregory Peck, who played Atticus Finch in the film version. I'd like to keep it perpetual, but we'll see where the books goes.
---

I knew this would happen! I've been signing up for Bookrings since last year without having any arrive at my mailbox . . . until today. Today two BookRings arrived at once: this one and
Lying Awake
(part of the
Bizarre BookRing
). I'll be reading this book first though.
I've been wanting to read
To Kill a Mockingbird
for a while. It was never assigned to us in high school even though the author, Harper Lee, grew up in a small Alabama town only about 3 hours from my own hometown. A co-worker of mine grew up in that town and is always singing her glory. My husband also said this is the best book he was
forced
to read in high school. So, without further ado, I'm off to find out what all the fuss is about . . .
---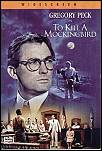 I can't believe that I never read this in high school. Then again, I don't think that the people in my Alabama hometown have changed their mind much about black people since the 1930s when this book was set. The parents of my classmates would have wanted to censor this book for its cuss words and references to sex. Small town Alabama has changed a lot since this book was written in many ways but not at all in others. To quote from the book: "You're not gonna change any of them by talkin' right, they've got to want to learn themselves, and when they don't want to learn there's nothing you can do but keep your mouth shut or talk their language." My personal choice was to keep my mouth shut and to get the hell out of there!
Harper Lee paints a portrait of small town Alabama with its varying social classes. Below even the class that lives on the outskirts of the city dump is the class of the black people in the town.
To Kill A Mockingbird
is a story told from the viewpoint of children who had not been tainted with this social phobia and who had learned from their father, Aticus, to view each of these groups equally. Still, their curiosity about these different groups lead them beyond their own imaginations into the real world as they encounter people from each of these social classes. They invite a boy home for lunch who has no lunch of his own, they visit a black church with their housekeeper when their father is away on business, and they try to make contact with the next door neighbor who hasn't been seen for 20 years. Then the children are unexpectedly plunged into world of intolerance where the town's adults live when a black man is accused of a crime he didn't commit. Their father is appointed as the black man's lawyer and the children hide in the balcony to witness the trial first-hand. They are shocked and dismayed by the townspeople's inability to see past the man's skin color to aquit him for his alleged crime. In response to the children's reaction, their black housekeeper says, "They've done it before and they'll do it again and when they do it -- seems that only the children weep." How amazingly profound!
What a wonderful book! I noticed references to lots of Southern food in the book, so I took the liberty to add recipes in between the pages where they're mentioned. Whoever gets this book next will not only get to read this wonderful book, but they will also learn how to make Maycomb County Butterbeans, Pork Cracklin' Bread, Sour Cream Pound Cake, Lane Cake, and Charlotte Russe. I've never had Charlotte Russe, but the recipe makes me want to go out and get all the ingredients for it right now (even though it is after midnight). My Aunt Pat used to make the scandalously delectible Lane Cake for Christmas each year partly just to see people's reaction to the taste of bourbon in the frosting (still lots of prohibitionists in Alabama).
I just went out and bought a copy of this book to send a man in Japan who is a contemporary of the children in the book and a lover of American literature. I've been trying to find a book to send him for quite a while now and can't wait to hear his thoughts on this book. Now I just need a copy of my own. :)
---
Journal Entry
6
by
amynsperry
at
to another BookCrosser in -- BOOKRAY, -- By post or by hand/ in person -- USA on Tuesday, July 15, 2003

Release planned for
Friday, July 18, 2003
at
to another BookCrosser
in bookray, postal release USA.
I had to do a little sleuth work, but I finally found the next person in line for this BookRay. I've also advertised it on the forums with little results. But the BookRay shall continue as follows:
1. gawdess: Portland, Maine (USA)
2. Elina: Oulu (Finland)
If some others PM me about it, I'll try to put them in some sort of geographical order to cut down on postage expenses as much as possible.
Please be sure to make a note in the envelope inside the book.
The bonus Found Art item in the book can be passed along with the book or can be kept by whomever chooses to claim it first! Enjoy!
---

Came in the mail yesterday...Will read and journal
---