The Serpent and the Moon
Registered by
faeriemyst
on 8/18/2009
This book is in a Controlled Release!
1 journaler for this copy...
Journal Entry
1
by
faeriemyst
on Tuesday, August 18, 2009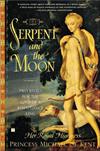 Synopsis
Set against the stunning backdrop of Renaissance France, The Serpent and the Moon is a true story of love, war, intrigue, betrayal, and persecution. At its heart is one of the world's greatest love stories: the lifelong devotion of King Henri II of France to Diane de Poitiers, a beautiful aristocrat who was nineteen years older than her lover.
At age fourteen, Henri was married to fourteen-year-old Catherine de' Medici, an unattractive but extremely wealthy heiress who was to bring half of Italy to France as her dowry. When Catherine met Henri on her wedding day, she fell instantly in love, but Henri could see no one but the beautiful Diane. When Henri eventually became king, he and Diane ruled France as one. Meanwhile, Catherine took as her secret motto the words "Hate and Wait" and lived for the day Diane would die and she could win Henri's love and rule by his side. Fate had another plan.
Her Royal Highness Princess Michael of Kent, herself a descendant of both Catherine and Diane, imbues this seldom-told story with an insider's grasp of royal life. The Serpent and the Moon is a fascinating love story as well as a richly woven history of an extraordinary time.
---
Journal Entry
2
by
faeriemyst
on Tuesday, August 18, 2009
The first half of The Serpent and the Moon mainly deals with Francois I's reign as king and has little to do with the love triangle. Frankly, the whole book itself hasn't much to do with the love triangle or "one of the great love stories of all time," but more to do with the political intrigue of Henri I and his father's reigns. Oh, and lest I forget, Henri, Diane, and both of their symbols, monograms, etc. I honestly don't know what the whole fascination of that was all about, but it showed up everywhere.

On page 187 the princess tells us that it is a man's way of thinking that Diane wouldn't have become Henri's mistress if he hadn't become dauphin. I disagree, it is a realist's view, and frankly, I think it's fully possible that was how it started. Yes, maybe she was flattered by his attention too, but to consider having him as a lover in light of how much she was in his life growing up, it's a bit creepy. Oedipus comes to mind. I believe he was infatuated with her from a young age and it most likely progressed into love, for both of them. I envision her grabbing the chance at being the mistress of a king and being older, she knew how to mould and persuade him. Whether or not it was a true love story, I really don't know; I'm not sure anyone does and I don't care all that much.

As many other reviewers have stated, there is an obvious bias. The readers are warned in the introduction, but even if you know that, there's still the possibility that the work as a whole might be neutral. Unfortunately, that's not the case. Maybe if it had only been a slight bias, I wouldn't have cared so much, but when an author heaps praise on one person and how they accomplish everything, and then turn around and bash someone else for the exact same thing. Well, that's just hypocrisy.

From the book, the author would have you believe that Diane de Poitiers got to where she was merely by being a good, honest, gracious, and pious woman and Catherine de' Medici did it by being a cold, heartless, evil, spiteful person. I'm sorry but you cannot have climbed to the heights Diane did, especially in those times, without being conniving in one way or the other. I'm sure she did the same things Catherine did, so quit holding Diane up on a pedestal; she's really not a goddess, just a woman. Diane is a white light, Catherine is black as death and there isn't any grey between them for most of the book. By the end of the book I really took the "history" lightly, mainly that of these two women, more than anything else; it was just an unfair assessment. And with the author's snarky and catty remarks directed towards Catherine, saying she has a "fat little heart," well, that was just uncalled for. Then at the end, her words were so disgusting about Catherine's behavior towards Diane, saying how petty she was and she did things purely due to "feminine spite". Catherine could have done much worse to her but she didn't! Of course, Ms. Perfect D. was always so respectful and exemplary of Catherine. Give me a break. Maybe some of the things said in the book were true about both women, but then again, maybe not. Most is lost to history.

If Princess Michael of Kent's plan was for me to sympathize and idolize Diane de Poitiers, as she does, it backfired. Now I don't ever care to ever hear about her again, and I love history of all kinds. On the other hand, I have already ordered two books about Catherine de' Medici from the library. Most likely the opposite of what she wanted. I honestly don't blame Catherine if she was bitter, who wouldn't be in that situation? Even if it was a different time, circumstance, and an arranged marriage? I refuse to believe Diane was this perfect being, a goddess, virtuous as can be, a victim - nobody is all these things and I don't know why the author cannot see any imperfections and insists on romanticizing her.

Even though I hated how biased this book was, I still appreciate the amount of research this must have taken, it was fairly well-written in form, and there was loads of information. I'd only recommend this to Catherine haters, loathers, or serious dislikers. With the princess's flair for the dramatic and speculation on feelings and actions, she might want to focus on writing works of fiction instead. I have no desire to read anything by this author again.
---
Journal Entry
3
by
faeriemyst
at
Given To A Friend, Friend -- Controlled Releases on Thursday, January 7, 2010
Released 12 yrs ago (1/4/2010 UTC) at Given To A Friend, Friend -- Controlled Releases
CONTROLLED RELEASE NOTES:
CONTROLLED RELEASE NOTES:

Sent to my friend in NC. :)
---