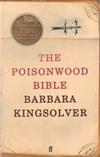 The Poisonwood Bible: A Novel
Registered by

judygreeneyes

of
San Diego
,
California
USA on 8/3/2009
4 journalers for this copy...

Journal Entry
1
by

judygreeneyes

from
San Diego
,
California
USA on Monday, August 03, 2009
"Nothing links person to person like the frequent passage from hand to hand of a good book."

An incredible story! In The Poisonwood Bible, Baptist missionary Nathan Price's wife and daughters tell their stories in alternating chapters. The family comes from Georgia to live in the Belgian Congo in 1959. Kingsolver does a good job of differentiating the voices, and also makes clear the complicated and tragic political and social climate of the Belgian Congo. The village is very remote and primitive. Nathan and his family are entirely unprepared and uninformed for the environment -- the lack of safety and healthcare, the lack of appropriate clothing, etc. It's hard to imagine someone taking his wife and 4 daughters into such an unstable environment.

The characters are compelling, the story very engaging; I found the preacher Nathan Price to be the least likeable or believable, but the story is from the point of view of the women, which makes it more palatable.

---

Journal Entry
2
by

judygreeneyes

at
San Diego, California USA on Monday, August 03, 2009
CONTROLLED RELEASE NOTES:

This book is off by mail to ciloma in Idaho. Enjoy!!

If you aren't familiar with Bookcrossing, take a few minutes to check out this very cool site. Bookcrossers LOVE books, and more than anything, they love to read books and then set them free for other people to find and enjoy. I would love it if you would leave a journal entry -- you can say where you found the book or how you liked it when you read it. Then, when you are ready, pass it along for someone else to enjoy! Thanks and happy reading!
---
This one came in the mail today. THANX A BUNCH!!!
---
I wasn't sure what to expect. I was not disappointed. I enjoyed the stories and the points of views. I felt that it dragged a bit in the section right before the end, though. I really got a sense of how governments get in the way and ultimately cause more grief than not.
---
On its way to BooksandMusic
---

Journal Entry
6
by

BooksandMusic

at
Seattle, Washington USA on Wednesday, December 21, 2016
I've read this book and thought it was really good. Here is the review I wrote when I read it:

I got sick and cried very frequently during the week it took me to read this book. As a bereaved parent and a patriotic American this was difficult and emotional reading. I've just finished it and I feel terrible. I'm glad it is over, but just for me, Africa is still out there, suffering as badly or worse than it was at the time written about in this book. Barbara Kingsolver wrote a book that seems to be more than the sum total of her words. It is brilliant, with Ada's palindromes and Rachel's word substitutions. Brilliant doesn't even really begin to describe it, just as "sad" is completely inadequate. I'm going to give up on describing it and just say it was one of the best books that I've ever read.

I will pass this on via a book box or put it in a Little Free Library
---

Journal Entry
7
by

BooksandMusic

at
Seattle, Washington USA on Tuesday, January 24, 2017
I am listing this book in bookstogive's Lit/Fic VBB.
---

Journal Entry
8
by

BooksandMusic

at
Seattle, Washington USA on Tuesday, March 14, 2017
This was chosen and I plan to mail it off today.
---

Journal Entry
9
by

BooksandMusic

at
Seattle, Washington USA on Wednesday, March 15, 2017
Mailed it off yesterday
---

Journal Entry
10
by

Shroffland

at
Snellville, Georgia USA on Sunday, March 26, 2017
Receided earler this week! Thanks!
---