Angels' Blood (Berkley Sensation)
2 journalers for this copy...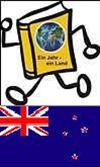 I bought this book after it was recommended to me. I'm loving paranormal-fantasy and the book counts for the 1 year-1 land Challenge for New Zeeland!
Well just finished it yesterday eve'. I'm not really sure how if I like it or if it's just okay to read...
The story and the world Nalini Sigh creates is an interessting one and a new, extraodninary idea, about angels who create vampire.
The main character Elena is nice but in some cases I don't understand her. Raphael, the archangel is okay.
It's a little bit sad, that the love which blooms betwenn those two is descriped in an physical but not in a feels way. I've no problem with very sexual books(loving the Black Dagger-Books), but exept the ending I'ver got the feeling that this "love" is nearly dimentionless exept the physical part.
But the ending I really like... I think I'm going to read the second book too, when it is relaesed next year, 'cause I'm curios, how the story is going on and perhabs the characters get a little bit more depth.
Exept all the critic points, I really enjoy the reading and finished it in two days.
---

Journal Entry
2
by
sternenwolf
at
Steffenberg, Hessen Germany on Saturday, March 19, 2011
Reist mit in der Dia de los muertos-Box und sucht neue Leser.
---

Journal Entry
3
by
Tiamat-muc
at
München, Bayern Germany on Thursday, November 22, 2012
Arrived looooooooong ago with our Dia de los Muertos-Box and now - after a much needed vampire-time-off - I will finally read it. Sounds interesting: angels making vampires *hmm*

And finished it in november. I liked it and I don't think the relationship is lacking of emotions. Hey, they would die for each other, it can't be a sheer sexual thing. By the way I didn't have the feeling that the writing is too emotionless.

At the time the book dwells at my best friends house who sometimes runs out of books but still isn't member of BC yet. After that Elena will travel on to another friends friend who loves sexy beasts too. And then there will be another box ;)
---