The Alchemist
Registered by
sternenwolf
of
Steffenberg
,
Hessen
Germany on 6/26/2009

This Book is Currently in the Wild!
4 journalers for this copy...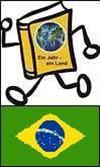 Heard a much positive critics about the author. Know I'm going to prove them on my own.
The Alchemist counts for the 1 year- 1 country Challenge for Brazil, for the 1000 Book-Challenge and reading project "Lieblingsbücher der Deutschen"!
Nice book, but I'm not very religious so there were a few things that I don't like soooo much.
The travel of the young shepherd to find his own Personal Legend was okay but all the referrels to God or Allah... Well and the fact that all is written and fate and none of our life is free will... No these are things I can't agree with, 'cause I like the thought of free will and that I could decide how to live. But I like the idea of the Personal Legend and that everybody has one to live a lucky live and of the language of all things... Can't these things exist without a God who decides over our lives?!
The book is easy to read, written in a very easy style. So you can read it in one ore two sittings (its only 160 pages long) and also the English is very easy to understand.
Okay I think that's it.
Ray:
1.
Nukegara
- München, Bayern
2.
Charly83
- Nordhorn, Niedersachsen
3.
Mary-T
- Mannheim, BaWü <- Da ist es jetzt!
Evtl. über mich nach:
Österreich
1.
mysticcat
- Wien, Österreich
---

Journal Entry
2
by
sternenwolf
at
sent to another BookCrosser, Bookring -- Controlled Releases on Monday, January 11, 2010
Released 10 yrs ago (1/11/2010 UTC) at sent to another BookCrosser, Bookring -- Controlled Releases
CONTROLLED RELEASE NOTES:
CONTROLLED RELEASE NOTES:

Macht sich mit der Post auf den Weg zu Nukegara.
Ich wünsche allen Teilnehmern viel Spaß beim Lesen!
---
War heute in der Post.
Vielen Dank, ich freu mich schon aufs Lesen!

Makes you rethink your life: very impressive how simple and yet full of meaning and depth this book is!
---
CONTROLLED RELEASE NOTES:

On its way to Charly83, ready to share its wisdom :-)
---
The book arrived today and I'm prepared for its wisdom ;) Thanks to Nukegara for sending it over.
---
This is an awesome book. If a book is able to change my life or my thinking it will be this one. I wasn't able to sleep the last nights because I had to think about the words and advises given in the book. I rarly read such good ones.

The book will spread its wisdom to the next reader as soon as I have Mary-T's address.
---
This one arrived some days ago.
Thanks - my boyfriend, PatrickDummy, will check it out first...

19-Jul-10
Really a fast read.
Sorry that it was lying around unread for so long.
I liked the book very much. But after the end I have to admit that I liked the beginning far more than the end. I didn't like how the story ended at all.
I'm not a religous person, but the talking about it in this book didn't disturb me a bit.
I will be on the look-out for more books by this author now. ;)

PatrickDummy has another chance till the weekend; afterwards I will ask for the next address...

Thanks for this nice ring.
---

Journal Entry
8
by
sternenwolf
at
Steffenberg, Hessen Germany on Saturday, August 28, 2010
Ah den Journaleitrag vergessen... Das Buch ist wieder sicher daheim angekommen und wartet nun darauf das mysticcat mir ihre Adresse schickt damit es weiter gehen kann!
---

Journal Entry
9
by
sternenwolf
at
Steffenberg - Niedereisenhausen Sparkasse in Steffenberg, Hessen Germany on Wednesday, December 22, 2010
Released 9 yrs ago (12/22/2010 UTC) at Steffenberg - Niedereisenhausen Sparkasse in Steffenberg, Hessen Germany
WILD RELEASE NOTES:
Hägt am Bäumchen vor der Sparkasse in seinem Beutel und wartet auf neue Leser!Lieber Finder, liebe Finderin,Herzlichen Glückwunsch du hats ein Bookcrossing-Buch gefunden. Dieses Buch wurde absichtlich hier freigelassen, damit es die Welt und viele neue Lesen kennen lernen kann.Über einen kleinen Eintrag wo du es gefunden hast und was du nun damit vor hast (lesen, wieder freilassen) würde ich mich sehr freuen. Das kannst du völlig anonym machen und ist natrülich kostenlos und spamfrei. Du kannst dich aber auch hier anmelden falls du selber ein paar Bücher auf die Reise schicken möchtest. Auch das ist kostenlos und absolut spamfrei! Liebe Grüße und viel Spaß mit deinem Findelbuch,Sternenwolf
---