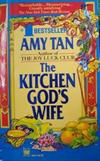 The Kitchen God's Wife
Registered by

ApoloniaX

of
Prenzlauer Berg
,
Berlin
Germany on 5/27/2009
4 journalers for this copy...

Journal Entry
1
by

ApoloniaX

from
Prenzlauer Berg
,
Berlin
Germany on Wednesday, May 27, 2009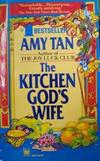 "The Joy Luck Club, Tan's remarkable and successful first novel, is followed by this chronicle of Chinese-American life, which shows Tan's growth as a writer. Pearl, the American-born daughter of immigrants, begins the tale with an uneasy visit to her mother for Grand Auntie Du's funeral. Misunderstanding runs deep between mother and daughter: Pearl is married with two young girls of her own, but her mother's life is largely incomprehensible to her. This leads to the large second part of the novel, told in mother Winnie's voice of her young womanhood in World War II-era China. Tan is a gifted natural storyteller."
---

Released 10 yrs ago (6/5/2009 UTC) at By Mail, A RABCK -- Controlled Releases
CONTROLLED RELEASE NOTES:
---

What a lovely surprise to have received this book today in my mail box! The book looks interesting and I shall begin reading it very soon. Thanks for being so generous.I will journal again after I have read this, and I already know someone to pass it on to later!
---

Great story. I really liked it. I am going to pass this book on to chamonix44 in Almelo. She has been wanting to read this, too.
---
---


Thank you
KJSkye
for this book. I will hopefully get around to reading it soon. Have a few more to read first.
Amazon Editorial Review:
"Tan is one of the prime storytellers writing fiction today."
NEWSWEEK
Winnie and Helen have kept each other's worst secrets for more than fifty years. Now, because she believes she is dying, Helen wants to expose everything. And Winnie angrily determines that she must be the one to tell her daughter, Pearl, about the past--including the terible truth even Helen does not know. And so begins Winnie's story of her life on a small island outside Shanghai in the 1920s, and other places in China during World War II, and traces the happy and desperate events tha led to Winnie's coming to America in 1949.
"The kind of novel that can be read and reread with enormous pleasure."
CHICAGO TRIBUNE
---


Wow! What a great book! Sad, moving, happy, shocking! What a terrible life poor Winnie had! I loved this book and I would recommend it to anyone. I think I will be taking this book to pass on to someone in England the next time I go there, or mailing it out as a RABCK.
---

Journal Entry
8
by
chamonix44
at
controlled release, a controlled release -- Controlled Releases on Monday, October 19, 2009
Released 10 yrs ago (10/19/2009 UTC) at controlled release, a controlled release -- Controlled Releases
CONTROLLED RELEASE NOTES:

CONTROLLED RELEASE NOTES:
I am sending this book out to the winner of the International RABCK Sweepstake October,
nediamnori87,
and I'm releasing it in memory of
Tânia Maia, Snowshoee, (1982-2009).
This is a story about life in Old China. I really enjoyed it, and I hope you will too!
I have also enclosed a small HGG package in with the book.
---
Thank you for the book! and all the other things that came along with it I'll be sending you a PM shortly to that effect! It's wonderful to be sent a book that has already been enjoyed by other people and I look forward to reading it and passing it on to others.

Thank you again
---
Reserved to send to Hayes13 as part of the tbr virtual book box
---