Blackberry Wine : A Novel
5 journalers for this copy...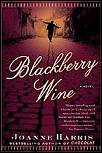 Bought because I've heard good things about the author, but also because the cover and title are so well matched. But my cover is not the same as the one pictured.
Found
another copy of this, but it was not registered on BC, so I am going to remedy that, read it and release that one, too. This one is offered up on BookRelay
Publishers Weekly:
Like her well-received 1999 novel, Chocolat, Harris's latest outing unfolds around the arrival of an outsider in a tiny French town. This time wine replaces chocolate as Harris's magic elixir, and the newcomer to the village of Lansquenet sur Tannes is Jay Mackintosh, a 37-year-old has-been writer from London. Fourteen years have passed since Jay's debut novel, Jackapple Joe, won the Prix Goncourt. Since then, he has been churning out B-novels under a pseudonym; he currently lives with his girlfriend, Kerry, an aggressively successful 25-year-old celebrity journalist. Flashbacks reveal that Jay's only recollections of happiness are the golden summers he spent as a youth with old Joseph "Jackapple Joe" Cox in the small English town of Kirby Monckton. Joe, a colorful character who made wines from fruits and berries, inspired Joe's successful first novel. But one day he disappeared. When Jay stumbles across an advertisement for an 18th-century "chateau" in wine-growing country, the spell of his misery is broken. After downing a bottle of Joe's '75 Special, which he has been hoarding for 24 years, Jay decides to buy the house sight unseen. Leaving Kerry in London, Jay moves to Lansquenet and starts a new rural life, beginning to write under his own name again. He is bewildered by his reclusive neighbor, Marise d'Api, who apparently coveted his derelict house and land, and is ostracized by the townspeople. Jay's quest to discover why everyone, including Marise's former mother-in-law, blames Marise for her husband's suicide keeps the plot moving at a steady clip. Despite some unbelievable twists and a slightly uneven paceAit begins slowly, but by the last quarter races aheadAthis is an entertaining narrative, equal parts whimsy and drama.
---
got it!!
thanks a lot! =)
nice to read in on of these sunny afternoons
---
offered on the relays site and accepted by jendudley. i'll mail it as soon as i read it. =)
---

Arrived!
Ofered as a RABCK from fio-dagua, it did arrive safe although in a totaly teared down envelope (reclamation at the post office will follow).
Thanks a lot fio-dagua, I'll save it for the sunny afternoons of August...

---

The sunny afternoons of August went by, and I still didn't read this book!... My fault, of course! With so many BRings it's difficult to get to read anything else...
Just to say it isn't forgotten, but will have to wait for lighter (in terms of books) days.
---

I'm totally ashamed for having taken such a looooooooong time to get to read this book.
Finally did so, taking it out right from the bottom of my huge TBR pile... and it was time I did so, for another summer came and gone and it's difficult to believe I've been holding this book for an year and a half!

As for the book... well, I've read Chocolat meanwhile and I must say this seems like a recipe the author uses: different plot, different characters but all the rest is there! It's entertaining enough, but not exactly good or what, in my humble opinion, I rate as good.

It's been nice, never the less, and I like to clearly know which are the authors I don't want to read any more from and this one served this purpose.

For now I'll be labelling this one as available, until I find a good reader for it, or maybe a bunch of them, who knows!...

---
Just arrived via BBox! The Portuguese translation was in my TBR pile, so I have to thank conto for sharing this one with me, allowing me to release the one I was holding for so looong ;)
Huge TBR pile, but I want to read it as soon as possible.

---
Reserved to raffle on my 1st BCer anniversary - October 27th
---
On its way to eragon369. Hope you and your mother enjoy reading it :)
---
Well, I'm offering this book next monday to my mother, in her birthday. She his an inconditionnal fan of Joanne Harris.
I'm not going to read this book, but my mother will and she will make a JE here ;)

Thanks and sorry for the bad english ;)
---
I had already gave the book to my mother anda she liked very much, but she is too busy and she still hasn't had time to make a JE here.
---