Dream Chaser (A Dream-Hunter Novel, Book 3)
2 journalers for this copy...
This one has just sat on the shelf forever, I don't think this one was meant for me. I'll release it soon enough.
---
Journal Entry
2
by
sothisdhampir
at
Woodstock, Georgia USA on Thursday, July 09, 2009
CONTROLLED RELEASE NOTES:

Sending as a RABCK. :)
---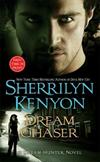 Thank you so much! I love this series of books! Once you start reading they are hard to put down. I appreciate your generosity! Thanks!
---

Journal Entry
4
by
JennyC1230
at
Woodstock, Georgia USA on Tuesday, August 05, 2014
My Review: I love this series! This is a great book. Xypher was in another book, so I am glad to see his story.

Book #14 in the Dark-Hunter series:

Hades doesn't often give second chances...

Xypher has one month on Earth to redeem himself through one good deed or be condemned to eternal torture in Tarturus. But redemption means little to a demigod who only wants vengeance on the one who caused his downfall.

Until one day in a cemetery...

Simone Dubois is a medical examiner with a real knack for the job. Those who are wrongfully killed appear to her and help her find the evidence the police need to convict their killers. But when a man appears and tells her that she's more than just a psychic, she's convinced he's insane.

Now the fate of the world hangs in her hands...

It was bad enough when just the dead relied on her. Now's there's the seductive Dream-Hunter Xypher who needs Simone's help in opening a portal to the Atlantean hell realm to fight insatiable demons. The future of mankind is at stake - and so is her life. The only question now is: Who is the bigger threat: the demons out to kill her, or the man who has left her forever changed?


---

Journal Entry
5
by
JennyC1230
at
Woodstock, Georgia USA on Wednesday, December 10, 2014
---

Journal Entry
6
by
JennyC1230
at
Woodstock, Georgia USA on Friday, January 06, 2017
The Romance VBB ended a few years ago, so I'm making this book available.

---