Garp und wie er die Welt sah
3 journalers for this copy...
---
WILD RELEASE NOTES:

im Baal
---
gefunden im Baal... to be read or to be zoned
---
Ein barock ausufernder Roman über das Leben des Ringers und Schriftstellers T. S. Garp, mit einer Unzahl an Nebenfiguren und ineinander verschachtelten Nebenhandlungen. Vom Ringer und Schriftsteller John Irving mit überbordender Phantasie und hemmungsloser Lust am Tabubruch geschrieben. Ein Buch so fesselnd, erheiternd und erschreckend wie das Leben selbst.
---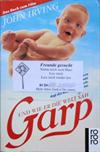 Gestern beim Muc-Up im Baal mitgenommen. Der Klappentext spricht mich eigentlich nicht so an, aber der Autorenname verspricht gute Unterhaltung.
19-Jan-2011:
Und wie erwartet hat John Irving mich gut unterhalten. Natürlich muss man das Buch auch in seinem zeitlichen Kontext sehen. Heute, 30 Jahre später, hätte der Autor sicherlich etwas Anderes zu sagen, aber der Stil und die Story machen eine gute Erzählung aus.
---