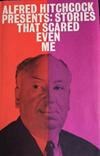 Alfred Hitchcock Presents: Stories That Scared Even Me
Registered by

perryfran

of
Elk Grove
,
California
USA on 4/9/2009

This Book is Currently in the Wild!
2 journalers for this copy...

Journal Entry
1
by

perryfran

from
Elk Grove
,
California
USA on Thursday, April 09, 2009
From an Amazon.com review:

This anthology is one of the most chilling and creepy collections of gothic horror and the supernatural. Quite incredibly, it is very unknown and hard to find.

I can still smell the thick, slippery river mud of "Fishead". The stark and surreal horror of "The Troll" is like the Twilight Zone episode with William Shatner. And why the novelette "Out of the Deeps" hasn't been made yet into a summer sci-fi blockbuster on par with Star Wars escapes me.

This is a must-have book for those who like a good scare. Get some cookies, make some tea, lock the door, and be sure to leave a nightlight on...you can't look away from this book once you pick it up.
---

I've actually had this copy of Hitchcock stories since 1968. It was a selection from a book club that I belonged to in high school. I know I previously read some of this but I don't think I ever read the whole book. Anyway, this was a really great collection of stories ranging from the macabre to just plain scary and unsettling. The book was published in 1967 so some of the stories are definitely dated but they still provide chills. Some of my favorites from the collection include:
A DEATH IN THE FAMILY by Miriam Allen deFord: This one was reminiscent of Psycho with a lonely mortician using the dead to make his own family.
PARTY GAMES by John Burke: About an odd boy who attends a party uninvited with dire consequences.
CURIOUS ADVENTURES OF MR BOND by Nugent Barker: This one was about a traveler who goes to three inns run by three different brothers who have some strange ghoulish ulterior motives.
TWO SPINSTERS by E. Phillips Oppenheim: About two lonely sisters who were apparently jilted by a suitor and are patiently waiting for him to return.
IT by Theodore Sturgeon: This one was definitely creepy about a thing that comes to life in the woods trying to figure out life by pulling apart anything it comes in contact with. This reminded me of some of the old EC horror comics from the 50s.
THE TROLL by T.H. White: Really strange tale about a troll who resides in a hotel room in Sweden.
JOURNEY TO THE DEATH by Donald E. Westlake: Westlake is one of my favorite crime novelists. This story is a little unusual for him about two men who get trapped in a sealed room in a boat that sinks and how they try to survive.
Overall, I enjoyed probably 90 percent of these stories and would highly recommend this anthology. It also contains the complete novel OUT OF THE DEEPS (aka
THE KRAKEN WAKES
) by John Wyndham. I didn't read this one but I have a paperback copy of this novel that I will read at a later date.
---
Read this as part of the
Oldest TBR Read and Release Challenge 2019
---

Journal Entry
3
by

perryfran

at
~ An Exchange!, A Bookcrossing member -- Controlled Releases on Friday, February 08, 2019
Released 11 mos ago (2/7/2019 UTC) at ~ An Exchange!, A Bookcrossing member -- Controlled Releases
CONTROLLED RELEASE NOTES:
Including this as a RABCK. Thought you might enjoy this collection of bizarre stories from Hitchcock. If not, feel free to pass this on or wild release. :-)
---

Journal Entry
4
by

GoryDetails

at
Nashua, New Hampshire USA on Tuesday, February 19, 2019
Thanks so much for the RABCK! I enjoyed quite a few of Hitchcock's anthologies back in the day - nice to see that this one's been in your hands since the '60s!
---

Journal Entry
5
by

GoryDetails

at
Nashua, New Hampshire USA on Friday, March 22, 2019
This is a fine anthology, and I enjoyed it very much, from the stories I'd read before to those that were new to me. Among my favorites:
Basil Copper's "Camera Obscura", in which a greedy moneylender gets his comeuppance via a strange old man who owns the titular device. (This one was adapted for an episode of "Night Gallery" to modest effect.)
Ray Russell's "The Cage," a dark little tale that blends a "be careful what you wish for" deal with the devil with spousal retribution - and with a nasty twist at the end.
Theodore Sturgeon's "It" is a tale I'd read before and recall with appropriate horror; its enigmatic monster is terrifying but not ill-intentioned, which in some ways makes everything that much worse. The final lines are both sad and chilling.
Thomas M. Disch's "Casablanca" is one of the non-supernatural horrors here, with an American couple on vacation in Morocco. As the story opens, it seems to be an ordinary trip, with tourists who are not enjoying themselves as much as they'd hoped - but then they learn that nuclear war has hit the US... The story deals with the increasing tension as everything they've relied on starts to fall away, but the narrow focus on these two late-middle-aged people makes it a very different story from a typical post-apocalypse. And it's all too believable, echoing the experiences of many people who find themselves stuck in a foreign country while their own has fallen to pieces... Lots of "what would
I
do in this situation?" stuff here, quite a nightmare scenario. [This one reminded me of a couple of Ray Bradbury's stories in which he features bickering couples traveling, as something dark sneaks up on them - he's also very good at sketching marital discord, and making the mundane sinister. Disch isn't as poetic, but the story's still quite effective.]
"Guide to Doom" by Ellis Peters (whom I know best as the author of the series about 12th-century monk/detective Brother Cadfael) is a sneaky tale of vengeance; it's a bit manipulative in setting and in the way the narrative unfolds, but I liked it anyway.
And I was pleased to see John Wyndham's "Out of the Deeps" here; I'd enjoyed it in the novel form as
The Kraken Wakes
.
And there are many more good stories here, some very grisly, some in the "vague unease" category. Oh, and Hitchcock's introduction is amusing: he quibbles at the title, saying *he* wanted it to be just "Stories That Scared Me", but that he was overruled...
---

Journal Entry
6
by

GoryDetails

at
Nashoba Conservation area (see notes) in Pepperell, Massachusetts USA on Friday, March 22, 2019
Released 10 mos ago (3/22/2019 UTC) at Nashoba Conservation area (see notes) in Pepperell, Massachusetts USA
WILD RELEASE NOTES:

I left this book, bagged against the elements, on the information kiosk at the Stromstead trailhead on Mt. Lebanon Street, while geocaching in the area. Hope the finder enjoys the book!
[See other recent releases in MA
here
.]
*** Released for the
2019 Keep Them Moving release challenge
. ***
---